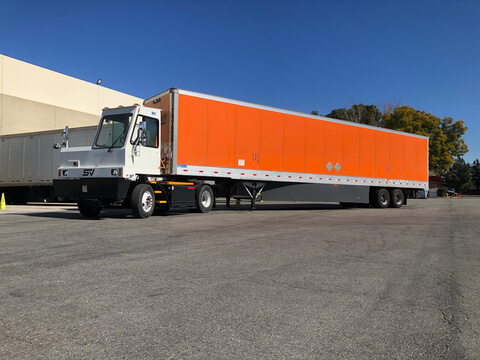 Schneider National Inc., one of the largest transportation, intermodal and logistics services providers in the U.S., is now running two Lonestar Specialty Vehicles battery-electric terminal tractors, further advancing the company's commitment to expanding its electric fleet, now at a total of 94 vehicles.
The Lonestar S22 terminal electric tractors (also known as yard spotters) are used to move trailers at Schneider's Rancho Cucamonga, Calif., cross dock. The tractors replaced two diesel units.
Each tractor can run for an entire 24-hour period before needing to be recharged, and a full charge takes an estimated hour and a half.
"Implementing these tractors is a massive achievement as we move toward operating zero-emission vehicles at scale," says Schneider Vice President of Equipment Engineering Jake VandeLoo.
Schneider says its collaboration with Lonestar is another essential investment to support the company's long-term sustainability goals and continuous growth of their electric fleet, now one of the largest in North America.