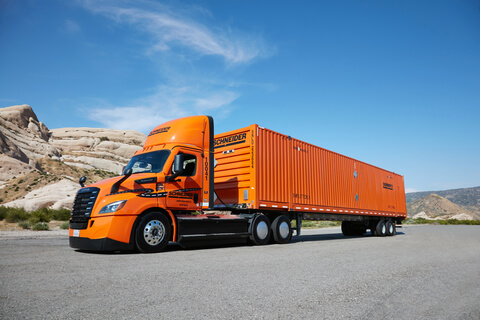 Transportation and logistics company Schneider National Inc. has completed an electric charging depot at its South El Monte Intermodal Operations Center in Southern California. The depot will power its battery electric truck fleet, which will include nearly 100 Freightliner eCascadias by year's end, making it one of North America's largest zero-emission fleets.
The charging site is over half the size of a football field, featuring 16 350 kW dual-corded dispensers, allowing the carrier to charge 32 trucks simultaneously. The eCascadias will be able to achieve an 80% charge within 90 minutes.
"Schneider decided to lead the way by building our own depot in South El Monte," says Schneider President and CEO Mark Rourke. "It was important to develop onsite charging because it is the most efficient solution to power our growing electric fleet. With the infrastructure deficiency, we found that we needed to collaborate with a wide array of experts to see our vision come to fruition."
Schneider's facility is centrally located within the metro Los Angeles area and adjacent to major highways with a high density of customers within a 50-mile radius. Already this year, Schneider has begun hauling deliveries for Frito-Lay North America and Goodyear using the new eCascadia fleet, supporting each companies' supply chain sustainability goals. The eCascadias have a range of approximately 220 miles.
The South El Monte site was funded through the Joint Electric Truck Scaling Initiative (JETSI), a project funded by state and local agencies to increase the number of zero emission heavy-duty trucks on the roads. Schneider collaborated with transportation engineering and construction company Black & Veatch to build the site.
Schneider worked alongside Daimler Truck North America as the eCascadia evolved, piloting a truck for six months in 2019-2020 through Freightliner's Customer Experience fleet. Feedback from Schneider drivers and the equipment team led to the production of the electric truck found in the company's fleet today.