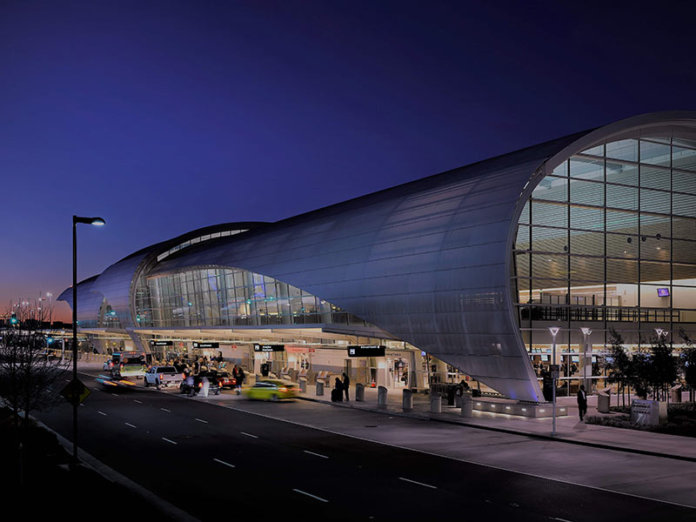 Electric bus manufacturer Proterra announced that the San Jose, Calif., city council has approved the purchase of 10 new Proterra Catalyst E2 zero-emissions battery-electric transit buses and related charging infrastructure for use at the Norman Y. Mineta San Jose International Airport (SJC). According to Proterra, the all-electric vehicles will replace the airport's older compressed natural gas (CNG) buses.
This purchase marks Proterra's first airport electric bus deployment in the San Francisco Bay Area. Scheduled to be placed in service in late 2018, the buses will be designed and built in California at Proterra's Los Angeles County manufacturing facility.
"The addition of this all-electric bus fleet reflects SJC's continued commitment to delivering a world-class passenger experience and advancing our community's collective sustainability goals," says San Jose Mayor Sam Liccardo. "These electric buses can help us significantly reduce costs and greenhouse-gas emissions and represent a step toward our aspiration that an electric engine power every shuttle and bus on San Jose's streets."
With 12 million passengers annually, SJC currently provides on-site shuttle buses to transport passengers and luggage among the airport's short- and long-term parking lots, consolidated rental car garage and terminals, with a fleet of CNG buses. Funded in part by a $3.8 million zero-emissions vehicle grant from the Federal Aviation Administration, the new Proterra battery-electric buses will replace these older CNG buses.
Since the electric buses have no combustion engine, riders will enjoy a quieter, smoother, exhaust-free ride, says Proterra. In addition to traveler benefits, the operational cost of electricity, at $0.19/mile, is substantially lower than diesel, at $0.84/mile, according to the company. Combining this with improved vehicle efficiency – at 21 MPG equivalent vs. 5 MPG for SJC's current CNG buses – and reduced vehicle maintenance costs is expected to result in an estimated savings of about $4 million during the 12-year lifetime of these 10 new Proterra buses.
"This purchase builds upon initiatives SJC has put in place to address the concerns and interests of the community and the environment," says Director of Aviation John Aitken. These include recycling and composting programs supporting a zero waste commitment by 2022, a 1 MW, 3.4-acre solar array powering the airport's rental car garage, and a shift to airside electric service vehicles reducing emissions from operations. Complementing these efforts, SJC's Terminal B received a Silver LEED certification – one of the first airports in the U.S. to receive the honor – for its innovative use of building materials to reduce energy use.
"As the community synonymous with innovation, Silicon Valley is the breeding ground for technologies that continue to change the way we live, work and play. SJC's pioneering vision to transition their fossil fuel fleet to a zero-emission fleet underscores the area's spirit of innovation and matches Proterra's goal of providing clean, quiet transportation to all," says Popple.
Photo courtesy of the SJC website