Vehicles equipped with propane autogas fuel systems made a strong showing at NTEA's Green Truck Summit and Work Truck Show. The Propane Education & Research Council (PERC) presented a session entitled "Propane Autogas – A Viable Economic Solution for Emissions Reduction" and featured two propane autogas-powered trucks in its booth.
ROUSH CleanTech displayed a propane-powered Ford F-650 upfitted for towing in PERC's booth. This is the seventh year the company has exhibited at this event. In that time, it has deployed almost 15,000 vehicles that have put 400 million miles on North American roads and displaced 500 million gallons of diesel. Fleet managers are experiencing the benefits of this domestically produced energy source.
"There's a lot of excitement leading up to the show this year, as sales of propane autogas light-, medium- and heavy-duty vehicles increased by nearly eight percent in 2016 compared with 2015 end-of-year figures," said Tucker Perkins, chief operating officer of PERC. "This means that at the start of 2017, nearly 200,000 propane autogas vehicles are supporting fleets across the United States in clean, cost-effective transportation."
With the increasingly wide variety of readily available medium-duty commercial vehicles and the many benefits of this cheap and clean fuel, propane autogas has become one of the most popular alternative fuel choices in the nation. Propane autogas, a domestically produced alternative fuel, has helped thousands of U.S. fleets reduce costs and emissions. Three such industries that benefit from propane autogas workhorses are food and beverage, energy, and towing.
Food and beverage businesses
Transitioning to clean-operating vehicles allows food and beverage companies to boost their bottom line by reducing overall costs. For example, for more than 30 years, the cost of propane autogas has been, on average, 30% to 40% less than gasoline and about 50% less than diesel. Plus, many customers have reported less servicing needed for fluids, coolants and filters or additional cost savings. The Ford F-750 box truck displayed in ROUSH CleanTech's booth is ideal for the beverage industry. This model box truck, equipped with a lift gate, accommodates applications up to 33,000 lbs and has a wide range of wheelbases. Its frame rating supports unique, heavy applications.
Hundreds of propane autogas vehicles already operate in the food and beverage industry. In the past few years, ROUSH CleanTech has seen an increase in food and beverage companies requesting information on the benefits of incorporating alternative fuels into their fleets. Of the nearly 1,000 vehicles operating in this industry today, most have been deployed since 2015.
Energy companies
Large company-owned fleets often have federal- and/or state-mandated goals they must achieve, so propane autogas-fueled vehicles can help achieve those goals. Vehicles fueled by propane autogas emit up to 25% fewer greenhouse gases, with 20% less nitrogen oxide; 60% less carbon monoxide; and fewer particulate emissions compared with vehicles fueled by gasoline.
Propane technology manufacturers have responded to growing demand from the energy industry companies by developing propane fuel systems for models such as the Ford F-650 and Ford F-750. Propane companies are buying the trucks for bobtails and cylinder exchanges, customizing them to fit multi-use needs. Examples of energy companies operating vehicles fueled by the product they sell are propane providers AmeriGas, Anthem Propane, Kamps Propane, Suburban Propane and Williams Oil Co.
Tow truck industry
Tow trucks often operate in rugged environments. The vehicle fuel tanks used to hold propane autogas are 20 times more puncture-resistant than gasoline or diesel tanks. They are constructed from carbon steel in compliance with the American Society of Mechanical Engineers. ROUSH CleanTech displayed in PERC's booth AAA Mid-Atlantic's Ford F-650 upfitted for towing. This propane-fueled truck has equivalent horsepower, torque and towing capacity to gasoline versions of the same model. Its 33,000 GVWR is ideal for the towing industry.
Fueling infrastructure
The fueling infrastructure available for propane vehicles makes the transition to this alt fuel attractive. Many fleet managers elect to install low- or no-cost on-site fueling infrastructure, eliminating trips to off-site stations. Propane autogas fueling infrastructure costs less than any other transportation energy source — conventional or alternative. Plus, there are thousands of propane autogas refueling stations in the U.S., with stations in every state. PERC displayed a propane fuel dispenser from Superior Energy Systems for attendees to demo.
Abundant and available fuel
With more than 25 million propane autogas vehicles traveling worldwide, this fuel is the third-most commonly used fuel across the globe, behind gasoline and diesel, and the leading alternative fuel in the U.S. More than 90% of the U.S. propane autogas supply is produced domestically, with an additional 7% from Canada. Using American-made propane autogas helps the nation's energy security goals and reduces the nation's dependence on imported oil. Many fleets lock in an annual per-gallon fuel cost for propane so price and supply remains consistent, allowing for better budgeting.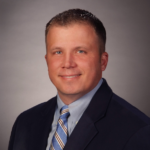 Todd Mouw is vice president of sales and marketing for ROUSH CleanTech. He has also served as president of the NTEA Green Truck Association.
Mouw can be reached at todd.mouw@roush.com or 800.59.ROUSH.