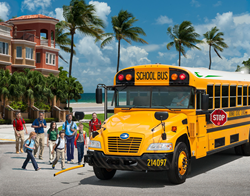 On Nov. 6-8, ROUSH CleanTech is hosting a three-site road show to demonstrate its propane autogas solutions available for California fleets.
According to the company, attendees will learn about renewable propane, ROUSH CleanTech's 0.02g ultra-low-NOx propane autogas engine, and available funding opportunities in California to purchase propane autogas vehicles. Each event will also conclude with a ride-and-drive.
The events will be held at the following locations:
Tuesday, Nov. 6, 10:00 a.m. – 12:00 p.m., The Citizen Hotel, Metropolitan Terrace, 7th floor, 926 J Street, Sacramento
Wednesday, Nov. 7, 10:00 a.m. – 12:00 p.m., Radisson Hotel Fresno Conference Center, Sierra Grand Ballroom, Second Floor, 1055 Van Ness Ave., Fresno
Thursday, Nov. 8, 10:00 a.m. – 12:00 p.m., Beverly Hills Marriott, Del Rey Ballroom, Second Floor, Los Angeles
More information on the events can be found here.