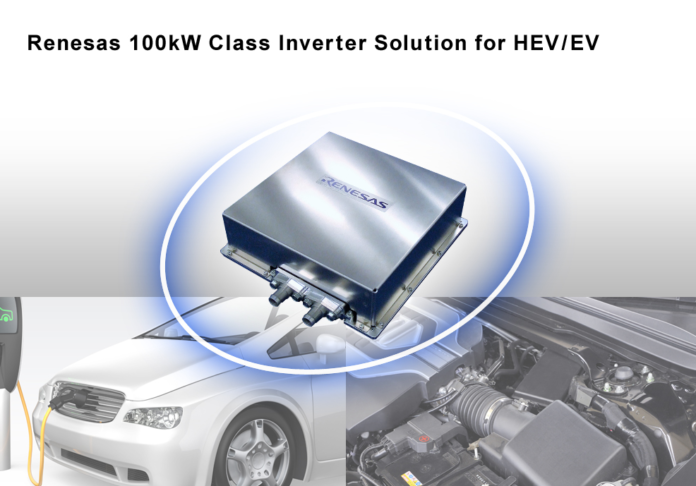 Renesas Electronics Corp., a supplier of advanced semiconductor solutions, has announced its new 100 kW class inverter solution that achieves a small design class of 3.9 L for high-power 100 kW class motors in large to midsize hybrid electric vehicles (HEVs), including SUVs and small to midsize electric vehicles (EVs).
As reported, Renesas will provide the new solution as a solution kit that includes software that maximizes the HEV/EV motor performance and hardware components, such as microcontrollers, an Insulated Gate Bipolar Transistor and a fast recovery diode, and other power semiconductor devices.
The company says the new solution enables system developers to reduce development time for various development steps – from specifications analysis to hardware/software development and motor characteristic adjustments. This shortens, for example, the prototyped inverter system development period from two to three years to just one year – a reduction of over 50% – thereby significantly contributing to the reduction of the development cycle and costs.
Renesas has been releasing inverters and solution kits with various capacity designs. In 2014, Renesas developed a solution that realized a size of 2.9 L in the 50 kW class. To respond to the growing needs for large-output motors for use in large vehicles, Renesas has expanded its lineup to support these large-output motors with its new 100 kW class inverter solution included with a motor calibration tool.