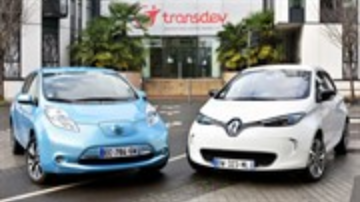 The Renault-Nissan Alliance and Transdev have agreed to jointly explore development of mobility services with fleets of electric driverless vehicles for public and on-demand transportation.
According to the alliance, the companies will collaborate to develop a comprehensive, modular transportation system to enable clients to book rides and mobility operators to monitor and operate self-driving car fleets.
"As the mobility services landscape keeps evolving, we have a great opportunity to offer innovative, connected mobility solutions for the evolving needs of our customers, fully aligned with our vision of a zero-emission, zero-fatalities society," says Ogi Redzic, Renault-Nissan Alliance senior vice president of connected vehicles and mobility services.
"Partnering with Transdev allows us to share our knowledge as leaders in electric vehicles, autonomous drive and connected-car technologies with one of the largest multi-modal mobility operators worldwide," he continues. "Together, we will develop an advanced driverless mobility system that will enhance existing public and on-demand transport systems."
The research will initially include field tests in Paris-Saclay with Renault ZOEs, the top electric vehicle in Europe, and Transdev's on-demand dispatch, supervision and routing platform.
"The future of mobility will be P.A.C.E. – personalized, autonomous, connected and electric," says Yann Leriche, chief performance officer at Transdev. "Our partnership with Renault-Nissan will reinforce our innovation capabilities and accelerate our time-to-market by combining our strengths with those of a global car manufacturer that shares the same willingness to enhance daily mobility to the benefit of clients."