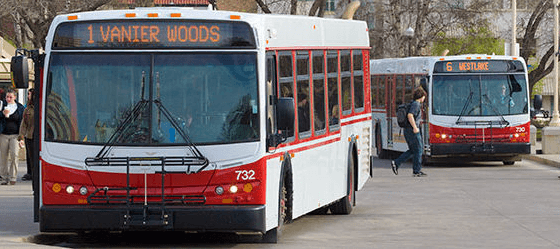 The Canadian city of Red Deer, in Alberta, has rolled out 17 new compressed natural gas buses following a celebration at Civic Yards last week.
According to the city, the new CNG transit buses will join the Red Deer Transit fleet as they are phased in over the next few weeks. The CNG buses will lessen Red Deer Transit's impact on the environment with reduced greenhouse-gas emissions while saving on the costs of fuel and regular maintenance.
Compared with Transit's current diesel-fueled buses, the new CNG buses use 30% less fuel per kilometer traveled, and CNG fuel costs are 40% lower than diesel.
As reported, the city used $5 million of its federal Gas Tax Fund allocation, as well as $10.1 million in provincial GreenTRIP funding, toward this project. The city funded approximately $600,000 from fuel and capital reserves to cover the remaining costs.
"These new CNG buses in Red Deer will help ensure residents have access to modern, clean and reliable public transit services," says the Honourable Amarjeet Sohi, minister of infrastructure and communities. "The government of Canada is committed to investing in local infrastructure that helps to create eco-friendly services while providing a way for Canadians to efficiently get to where they're going and then back home to their families at the end of the day."
In addition to the purchase of new CNG buses, the project also included construction of a CNG fueling station and upgrades to the bus storage facility and maintenance garage at Civic Yards.
"Investing affordable, accessible public transit just makes sense. With these new clean-burning vehicles, Red Deer Transit can offer quieter frequent peak hour service, making transit a viable option for commuters," says Kim Schreiner, MLA Red Deer North.
The project came forward as part of the city's Environmental Master Plan, which frames the city's commitment to the environment, outlining goals and next steps for the city.
"The city has taken a significant step forward in reducing our carbon footprint," says Mayor Tara Veer. "The CNG buses allow us to continue to provide affordable transit within our community while reducing the impact on our environment and the city's operational budget."
The city says Red Deer Transit will continue to expand the CNG fleet by replacing aging diesel buses with new CNG buses as they reach the end of their life span. Six new CNG paratransit buses are expected to arrive this November to replace older vehicles that have reached the end of their lifecycle for the Red Deer Transit Action bus fleet.
Red Deer is only the latest Canadian city to make an alternative fuels switch: Medicine Hat recently introduced its own CNG buses, Calgary is currently in the planning stage for natural gas vehicle deployment, and Edmonton has opted instead for battery-electric buses.
Photo courtesy of the City of Red Deer