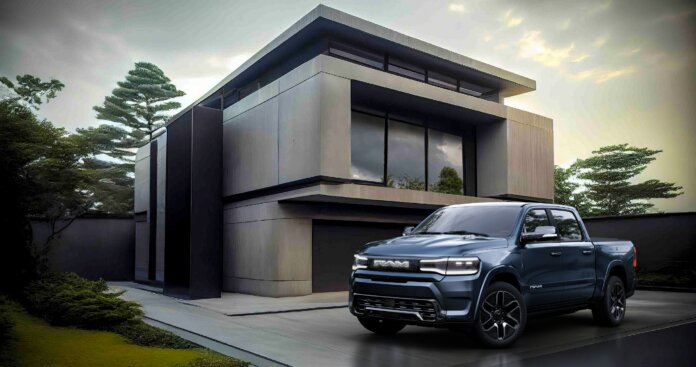 The new all-electric 2025 Ram 1500 made its debut at the New York International Auto Show this week, entering the market as the first battery-electric light-duty pickup truck from Ram Truck.
The truck will be available in two all-electric options, including a standard 168 kWh battery pack with a targeted range of up to 350 miles and an optional 229 kWh battery pack with a targeted range of up to 500 miles. Both can add up to 110 miles of range in approximately 10 minutes with 800 V DC fast charging at up to 350 kW, offering customers quick and convenient charging solutions.
The charge port is located on the driver's side front quarter panel and, when plugged in, is illuminated by blinking LED lighting. An audible sound signals the Ram 1500 REV is plugged in and charging has begun. The charge port features Level 1 and Level 2 AC charging on the top half and DC fast charging on the bottom half of the charger.
Performance figures include a 0-60 mph time of 4.4 seconds, 654 hp and 620 lb.-ft. of torque, up to 24 inches of water fording, up to 14,000 pounds of towing capacity and a maximum payload capacity of 2,700 pounds.
The Ram 1500 REV features dual 250 kW electric drive modules (EDMs) that combine the motor, gearbox and inverter, along with all-wheel-drive capability. The truck features one EDM on the front axle with an automatic wheel-end disconnect that allows the front wheels to spin freely in certain conditions, maximizing efficiency. A 250 kW EDM is positioned on the rear axle available with an electronic-locking rear differential.
Additionally, a touchscreen display shows a number of data points:
Power flow: demonstrates the flow of power through the vehicle in kilowatts
Range impact: advises how to reduce energy consumption and increase range
Driving history: a power/charge bar chart showing energy consumption and regeneration in current, weekly, two-week and four-week intervals
Charge schedules: recommends when to charge and for how long
Plug and charge: automatically authorizes payments when plugged into a compatible charging station
Max battery level: customer has a choice between an 80% charge level for daily/towing needs, which is optimized for battery performance, or 100% for long-distance needs