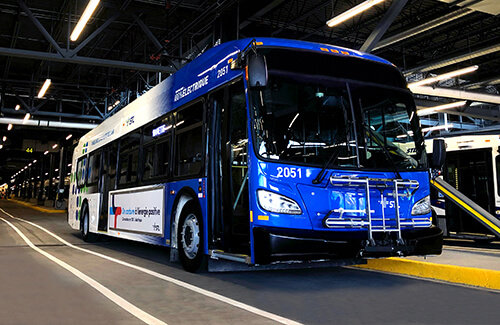 The Société de transport de Laval (STL), a public transit system in the City of Laval, Quebec, has unveiled a battery-electric city bus that will be used for testing and validation ahead of its 2020 entry into the province's electric bus line.
The battery-electric Xcelsior CHARGE bus from New Flyer is expected to have a range of 250 kilometers and reduce greenhouse-gas (GHG) emissions by 70 to 80 metric tons per year.
"This public transit vehicle of the future is great for the environment, first of all, and second, it will make for a more enjoyable user experience, since it's quieter," states Marc Demers, mayor of the City of Laval. "Electric buses are clearly part of our future vision in Laval."
The new electric bus line, initiated by STL in collaboration with the Association du transport urbain du Québec, will include 10 40-foot, slow-charge electric buses, manufactured by New Flyer Industries Canada ULC and delivered next summer. STL's buses will use depot chargers overnight. The governments of Canada and Quebec are contributing C$6.8 million and C$2.8 million, respectively, for STL's electric bus initiative.
"We are powered by positive energy and committed to reducing our GHG emissions by 45 percent, and these slow-charge vehicles will ensure that we meet that target," comments Éric Morasse, STL's chairman of the board. "By 2024, purchases of gas-powered buses will be a thing of the past for the STL."