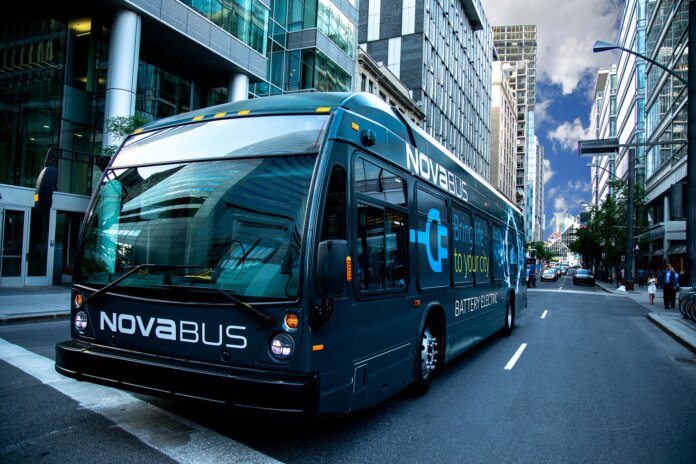 BAE Systems and Nova Bus say the 10 transit authority members of the Association du Transport Urbain du Québec (ATUQ) have ordered up to 1,229 battery-electric buses using BAE Systems' Gen3 electric drive system.
This order is the largest battery-electric bus deal to date in North America and builds on the 1,800 buses in the province already powered by BAE Systems' technology.
ATUQ represents public transportation organizations that serve the major urban centers in Québec: Montréal, Laval, Longueuil and the greater metropolitan area, as well as Québec City, Lévis, Gatineau, Trois-Rivières, Saguenay and Sherbrooke. Together, they provide 99% of the public transportation trips in the province.
"This order marks the next step toward full fleet electrification – delivering reliable, high-performance systems to help ATUQ's members reach their environmental goals," says BAE Systems' Bob Lamanna.
Gen3, BAE Systems' latest electric drive system, features an electric motor and advanced power electronics to produce a clean mode of transportation for buses. The system uses innovative technology, such as silicon carbide to improve heat management, lightweight components, and increased electrical efficiency for enhanced vehicle performance. Using a flexible design, the reduced number of connections creates a compact system and allows the buses to travel longer distances on a single charge.
"This order represents our collective commitment to improving air quality, meeting the provincial government ambitious targets and contributing to Canada's zero-emission future," says Marc-Andre Varin, general manager of ATUQ. "BAE Systems has been with us from the beginning of our journey, starting with electric-hybrids and now the switch to all-electric buses. This is a big leap forward in our plans to provide sustainable transit service."
BAE Systems' electric propulsion technology is developed and serviced at its facilities in Endicott, N.Y., and Rochester, U.K.