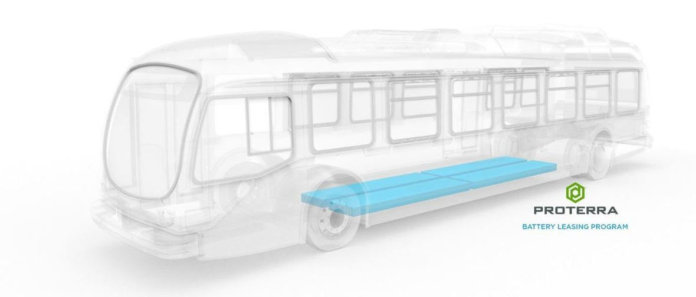 Proterra, a U.S.-based provider of heavy-duty electric transportation, has announced a new partnership with Mitsui & Co. Ltd., a Japanese investment and trading company, to create a $200 million credit facility in support of a battery lease program.
Mitsui currently holds a diversified portfolio of businesses in various sectors, including mobility, infrastructure and renewable energy. The battery leasing credit facility, expected to lower the upfront costs of Proterra's electric buses, is the first of its kind in the North American public transit industry, claims Proterra.
By decoupling the batteries from the sale of its buses, Proterra enables transit customers to purchase an electric bus and lease the batteries over the 12-year lifetime of the vehicle. As a result, the initial capital expense for the electric bus is expected to be similar to that of a diesel or compressed natural gas bus, and customers can use the operating funds previously earmarked for fuel to pay for the battery lease, says Proterra. The lease agreement also provides a performance warranty, as well as new batteries at mid-life.
"We're seeing innovation both in technology and in businesses around the mobility sector. We are pleased to take an initiative to support the transit industry alongside Proterra as the company expands its battery lease program to enable the rapid adoption and a broader commercialization of its electric buses," comments Yosuke Matsumoto, general manager of new business and innovation division at Mitsui. "There is a unique opportunity for markets to provide the necessary capital to accelerate the imminent transition to 100 percent battery-electric bus fleets and reduce carbon emissions."
In addition, Proterra and Mitsui have established a program to use batteries from the leasing program in secondary applications after the end of their useful life in a vehicle.
"This first-of-its-kind credit facility for public transportation marks a significant development in our evolution to make innovative heavy-duty electric vehicle technology accessible through innovative financing models," notes Proterra's CEO, Ryan Popple. "Mitsui's continued support as a trusted partner for this facility will serve as a foundation for the Proterra battery lease program to expand and allow transit agencies across North America to bring clean, quiet transportation to their communities."
Park City, Utah, which currently has a battery service agreement with Proterra for a fleet of six Catalyst buses, plans to lease batteries for its next set of seven Catalyst vehicles.
"We're thrilled to have been the first to take advantage of Proterra's innovative battery service agreement in an effort to bring more electric buses to Park City," says Park City's mayor, Andy Beerman. "There is no reason for us to buy bus batteries from this point on."
Proterra also has a bus leasing program, which is used by four customers, including Jones Lang LaSalle in Chicago and the Metropolitan Transportation Authority in New York.