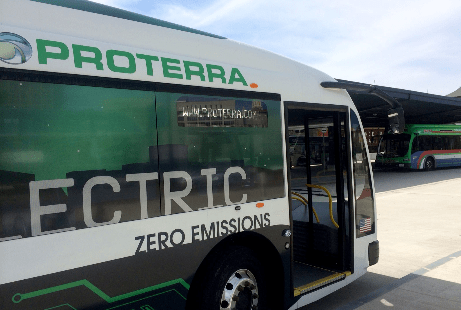 Proterra, a heavy-duty electric transportation provider, says that the Silicon Valley Leadership Group (SVLG) has named Proterra CEO Ryan Popple a board member.
Expanding upon his role on SVLG's transportation committee, Popple will be focused on increasing access to affordable, sustainable transportation solutions throughout Silicon Valley, Calif., and the Bay Area through strategic partnerships and policy initiatives that keep pace with today's technology innovation.
Some of the key initiatives Popple will support include the organization's Regional Transportation Initiative, the Caltrain Commuter Coalition, BART's Phase 2 expansion to Silicon Valley, and establishing long-haul flights from San Jose International Airport.
With the rise of electric vehicle technology, autonomous drive and on-demand mobility services, the U.S. is in the midst of a paradigm shift, and the Bay Area is at the epicenter of this transformation to ultra-efficient, affordable, multi-modal mobility.
As a Silicon Valley-based public policy organization, SVLG represents nearly 400 companies on issues, programs and campaigns that affect the economic health and quality of life in Silicon Valley. While on the board, Popple will focus on strengthening Silicon Valley's transportation ecosystem to improve how employees, residents and cargo move through the Valley while minimizing impact on the environment.
"Mobility solutions are being designed and deployed at a rapid pace here in Silicon Valley.  It's our hope to leverage the local expertise and unique leadership the Bay Area has to offer," says Carl Guardino, president and CEO of SVLG.
"Ryan Popple has demonstrated success in scaling high-tech and sustainable transportation systems over the years, and we are confident he will be a major asset for SVLG's initiatives," says Greg Becker, chairman of the SVLG board and CEO of Silicon Valley Bank. "Looking into 2017 and beyond, Ryan will be instrumental in forging new partnerships and in supporting initiatives that streamline the mobility of our communities."
A longtime advocate of policy initiatives that address urban, environmental and civic issues throughout California, Proterra has supported many policy measures that further transportation infrastructure and access.
"Proterra and the Silicon Valley Leadership Group are working together to address traffic congestion, air quality and accessibility issues associated with Bay Area transportation," says Popple. "As a new board member and lifetime advocate of clean mobility technology, I'm looking forward to closer collaboration with the organization to confront these issues and to advance the region into a future defined by sustainable, affordable and efficient transportation."