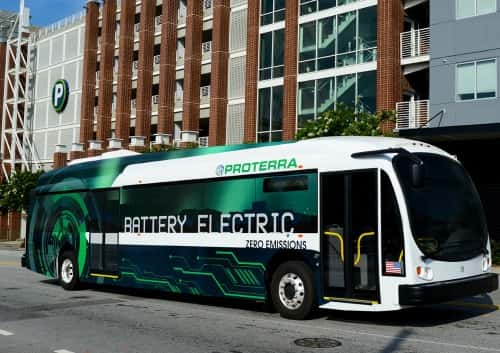 Proterra, a heavy-duty electric bus transportation company, has announced that the former attorney general and two-term governor of Michigan, Jennifer Granholm, has joined its board of directors.
According to Proterra, Granholm has been a leading voice for American jobs and manufacturing, with an esteemed track record for producing a high-quality clean energy and transportation workforce in the Midwest. As Proterra moves into its next phase of strategic growth and national deployment, her wealth of expertise in policy, clean energy and manufacturing will serve as a major asset to Proterra's leadership team.
"The transition to an all-electric, energy-efficient transit system is well under way, so it's critical that America seize this moment to innovate, lead and cement local, high-skilled manufacturing jobs," she says. "I'm proud to support Proterra as it continues to bring more jobs, more dollars and more opportunities to the domestic transportation sector."
As the governor of Michigan, Granholm played a leading role in Michigan's economic recovery by diversifying local industry and creating a clean energy hub for the state. Granholm's novel approach to creating middle-class jobs and incentivizing supply chains to co-locate in Michigan attracted leading manufacturers in energy storage, solar, wind and bio-energy. Her plan focused on fostering critical partnerships among industry, government and researchers, which catalyzed investment totaling $9.4 billion and created more than 89,000 clean energy jobs.
Already, more than 75% of the materials used to manufacture Proterra's high-performance Catalyst buses are American-made, exemplifying Granholm's vision for an infrastructure model that prioritizes domestic job growth and economic empowerment. With U.S. suppliers, manufacturing facilities in South Carolina and California, and a base of its battery-electric buses sold into 36 cities across the country, Proterra continues to demonstrate its commitment to both the U.S. transit market and the domestic manufacturing sector that serves it.
In 2016, Proterra says it achieved more than 225% sales growth and expects to triple overall production in 2017.
"We believe that American market demand can be met by American supply, so it's a major win to have former governor and American manufacturing advocate Jennifer Granholm join the Proterra board as we ramp production," says Ryan Popple, CEO of Proterra. "Her policy leadership and industry success in growing high-end manufacturing will be invaluable to the company and the mass transit market, which we expect to transition to all-electric buses by 2030."