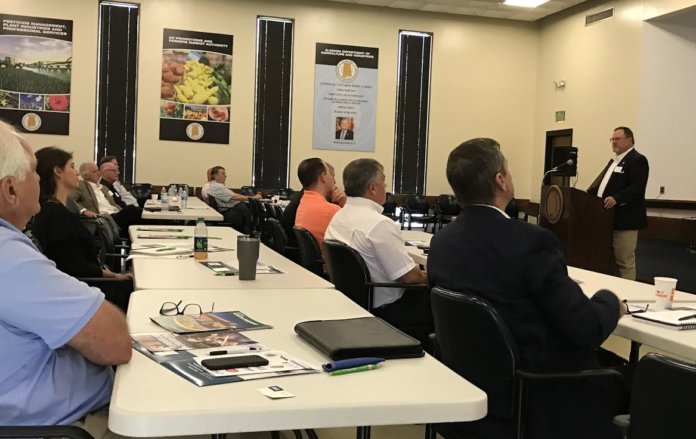 Clean vehicle stakeholders from across the nation gathered at the Alabama Department of Agriculture and Industries on Thursday in Montgomery to share real-world experiences gained from using propane autogas.
The Propane "Autogas Answers" Workshop, facilitated by the Alabama Clean Fuels Coalition and Propane Education and Research Council, brought together fleet managers from public school systems, industry stakeholders and potential users to discuss alternative fuel options available to bring down costs and help reduce air pollution.
"Propane autogas is a great fuel," said keynote speaker John Barnett, propane program manager for U-Haul International. "It can do so many different things. We're accustomed to the way gasoline acts in an engine, and propane autogas acts a lot like gasoline."
U-Haul operates a fleet of 250-300 propane autogas vehicles and is testing 15-foot box rental vehicles running on autogas in Texas.
Barnett shared how U-Haul works to improve its sustainability efforts: e.g., using recycled material in its packing blankets and biodegradable packing peanuts made out of corn starch – and, of course, using cleaner-burning propane fuel.
"We recycle old buildings and convert them to what we need to use them for rather than tearing them down and re-building," he said. "That's why propane autogas fits into that mold and all that we're doing to expand the use of autogas."
Public school systems are major benefactors from this alternative fuel – a topic that was reinforced at Thursday's event from school bus transportation departments, as well as bus manufacturers. Among those on hand to talk about local bus fleets were Sam Ham, executive director of the Fulton County, Ga., School System's transportation department; Ken Kvalheim from Mobile County Public Schools; Casey Foster, Birmingham City Schools' transportation director; Chris Bible and Kevin Snowden of Busworx; and Herbie Boring of Southland International.
In addition, Maureen Neighbors, energy division chief of the Alabama Department of Economic and Community Affairs, presented the current status of the $25.5 million Volkswagen Settlement in Alabama and shared insights on the upcoming second-round funding opportunity.