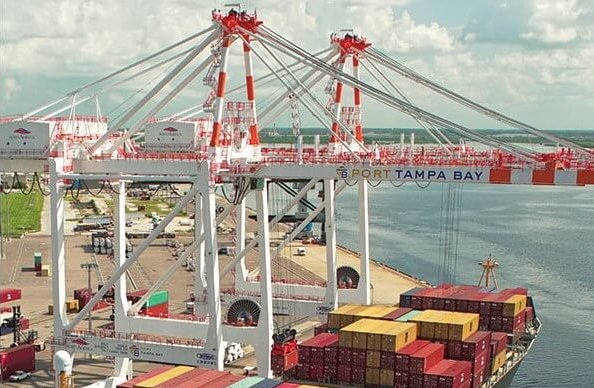 Port Tampa Bay, Florida's largest port, has partnered with local firm Integral Energy on a new fueling station that will include compressed natural gas (CNG) pumps, a convenience store and a restaurant. This week, the port's board of commissioners unanimously approved the construction.
"Integral Energy's facility is an exceptional fit for the port," says Port Tampa Bay President/CEO Paul Anderson. "Not only do we welcome clean fuel alternatives, which are domestically produced, [but also] this station will support the thousands of trucks and growing number of service providers at the port every day."
The site at the southeast corner of Maritime and Causeway Boulevards will be open to both commercial and passenger vehicles, with four CNG pumps designed to service long-haul trucking, as well as plenty of surface parking for drivers wanting to refuel as well.
"As a company based here in Tampa, we couldn't be happier to partner with the Port of Tampa Bay for this project," says Anddrikk Frazier, president and CEO of Integral Energy. "This station will allow fleet vehicles to reliably and safely begin to shift to CNG knowing that fuel will be available and convenient. CNG is better for our planet as well as budgets, and we are here to help provide our city with a cleaner and cheaper way to transport goods from our port."
The project will occupy 5.7 acres of land on port property and will also house a convenience store and a restaurant from yet-to-be-determined vendors. Integral will make the site "construction ready" and provide all site infrastructure, including underground facilities and utility connections.
According to the port, the initial term of the lease is 20 years, beginning April 1, 2018. The annual rent in the first year would be $142,500 and increase to $265,000 in the second year.