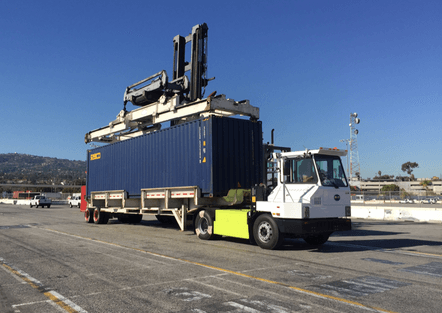 Electric vehicle manufacturer BYD has announced that the Port Authority of New York and New Jersey (PANYNJ), which oversees the vast regional transportation infrastructure in the New York City area, will demonstrate a battery-electric BYD Class 8 yard truck for the next several weeks.
As reported, this announcement is part of the Port Authority's ongoing efforts to create a more sustainable infrastructure system.
BYD says the zero-emissions truck has a 10+ hour operating range on a single charge and is a 1-1 replacement for the diesel yard trucks that currently operate at PANYNJ's Red Hook facility in Brooklyn.
"New York and New Jersey have always been home to innovation, and we're glad to see them embracing electric trucks as reliable replacements for dirty industrial diesel vehicles," says Stella Li, president of BYD America. "We look forward to seeing the results of this demo and many more zero-emission light- and heavy-duty trucks in New York and New Jersey."
BYD explains the yard trucks are also known as utility tractor rigs, yard tractors, yard spotters, yard hostlers, yard mules or yard goats, and they are the most commonly used heavy-duty vehicles for cargo handling in the freight industry. Conventional yard trucks are powered by diesel engines and operate at ports, rail yards and warehouses that are located within or adjacent to residential areas.
Photo courtesy of BYD – The BYD Class 8 yard truck, which can operate for 10+ hours between charges, on its way to Red Hook.