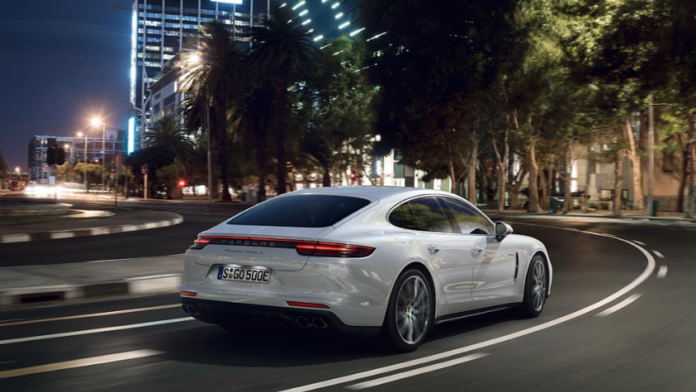 Porsche says that it is introducing the new 680-hp Panamera Turbo S E-Hybrid plug-in vehicle at the New York International Auto Show this week.
According to the automaker, this is the first hybrid flagship for one of its model lines.
After the debut of the Panamera 4 E-Hybrid – which uses a twin-turbo V6 engine combined with an electric motor – Porsche believes the Panamera Turbo S E-Hybrid is "another compelling demonstration of the performance advantages of hybrid technology."
Combining the 4.0-liter V8 engine from the Panamera Turbo with a 100 kW electric motor, the Panamera Turbo S E-Hybrid delivers a total output of 680-hp and 626 lb.-ft. of torque.
According to a prior announcement from Porsche, the plug-in electric vehicle (PHEV) starts in the purely electric "E-Power" mode as standard, driving locally over a distance of up to 50 kilometers with zero emissions. When a specific pressure point is passed in the accelerator pedal, or when the battery charge level drops below a minimum value, the Panamera switches to "Hybrid Auto" mode, at which point the power of both engines is available.
According to Porsche, the 2018 Panamera Turbo S E-Hybrid is expected to reach U.S. dealers by the end of this year. The PHEV will also be offered in an "Executive" version with a 5.9-inch-longer wheelbase.
The base suggested retail price for the 2018 Panamera Turbo S E-Hybrid will be $184,400, while the Panamera Turbo S E-Hybrid Executive will start at $194,800. These prices exclude the $1,050 delivery, processing and handling fee, Porsche notes.
The automaker will be introducing several other vehicles at the show, as well, including the Panamera Sport Turismo.