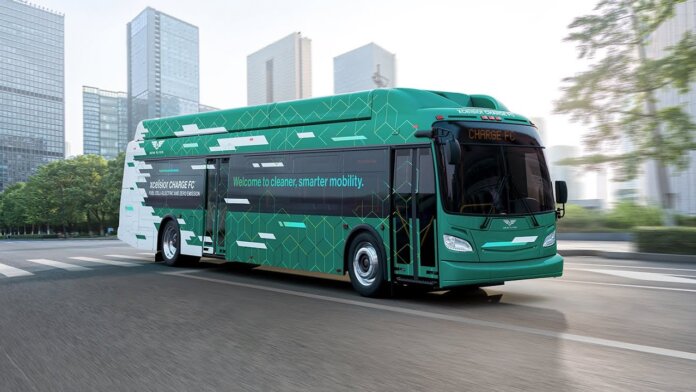 The Phoenix Public Transit Department (PTD) has placed an order with New Flyer Industries for six zero-emission fuel cell-electric and 20 low-emission hybrid-electric transit buses.
The two five-year contracts include options to purchase up to 160 fuel cell-electric and 160 hybrid-electric transit buses in 40-foot lengths.
PTD provides transportation services in Phoenix and other cities across the Valley Metro, delivering more than 20 million annual revenue service miles on 644 transit vehicles.
This purchase of low- and zero-emission buses will deliver on PTD's Transportation 2050 plan, focused on extending the bus service to enhance transit connectivity across Phoenix. In addition, this purchase will spur the PTD's Transportation Electrification Action Plan, which outlines the fleet electrification roadmap, ultimately delivering on the City of Phoenix Climate Action Plan to improve air quality through a more sustainable transportation system.
New Flyer's Xcelsior CHARGE FC, a hydrogen fuel cell-electric vehicle, incorporates four distinct technology advancements, including a lighter, simpler, and more efficient heavy-duty fuel cell power module that is easier to service; recyclable, high-power batteries; a redesigned waterproof battery enclosure providing improved serviceability; and a high-grade electric drive traction system.
New Flyer's hybrid-electric buses bridge the transition between traditional combustion engines and zero-emission propulsion, reducing NOx emissions by up to 50% and particulate matter levels up to 100% while also lowering fuel consumption and maintenance costs.