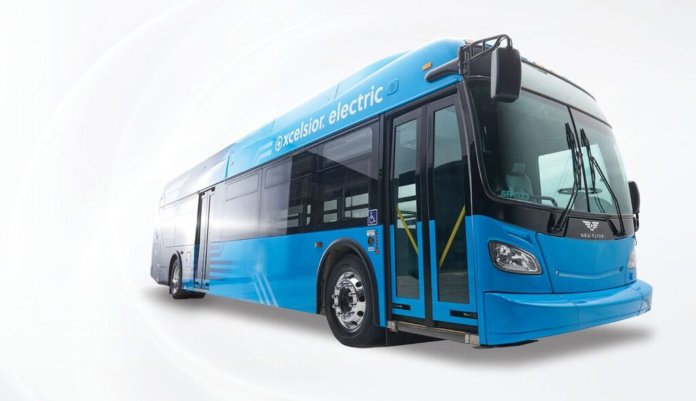 New Flyer of America Inc., the U.S. subsidiary of New Flyer Industries Inc., recently announced new orders for alternative fuel transit buses from the City of Phoenix and the Tri-County Metro Transportation District of Oregon (TriMet).
New Flyer says the City of Phoenix Public Transit Department has exercised an option with the manufacturer for 30 more Xcelsior compressed natural gas (CNG) buses, consisting of 16 forty-foot heavy-duty transit buses and 14 (or 28 equivalent units) sixty-foot heavy-duty transit buses, which will be converted from New Flyer's backlog to a firm order.
The option is part of a contract approved in November 2014 and will be deployed on city's commuter (RAPID) routes starting 2018.
"Following a recent award to the City of Phoenix, New Flyer is proud to again support expansion of the city's fleet with low-emission buses as it pursues its Transportation 2050 plan," states Wayne Joseph, president of New Flyer of America. "We pride ourselves on delivering safe and reliable buses built in America and are dedicated to supporting growth of Phoenix bus ridership with sustainable solutions that help connect communities."
In Oregon, TriMet has awarded New Flyer a contract for five Xcelsior battery-electric, zero-emission, forty-foot heavy-duty transit buses. TriMet provides bus, light rail, and commuter rail service in the Portland, Ore., metro region.
Notably, the order is TriMet's first move in deploying a long-term test of battery-electric buses within its network, in consideration of transition to an all-electric fleet, and also delivers on goals of advancing bus technology and planning for the future of transit. TriMet has partnered with utility Portland General Electric (PGE) to purchase, own and maintain the charging infrastructure.
The contract, which includes the Xcelsior battery-electric buses and charging hardware, is supported by a grant from the Federal Transit Administration (FTA) Low or No (Low-No) Emission Vehicle Deployment Program. New Flyer claims its Xcelsior battery-electric buses offer up to $400,000 in energy savings and up to $125,000 in maintenance savings over a 12-year life span and can travel up to 230 miles on a single charge.
"We are thrilled to be part of TriMet's first investment in 100 percent electric, zero-emission transportation," says Joseph. "With this Low-No contract, we take another step in the evolution of America's transit bus fleets to electric propulsion. We commend TriMet on leading change toward lower emissions and greater environmental sustainability."
Model image of Xcelsior electric bus courtesy of New Flyer