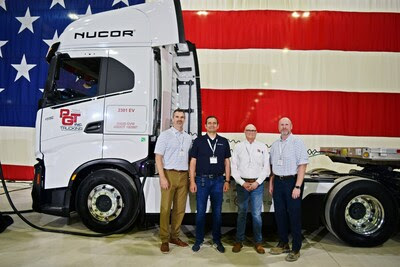 Flatbed transportation specialist PGT Trucking Inc. has delivered its first shipment of low-greenhouse-gas steel via Nikola's Class 8 battery-electric vehicle from Nucor's new Brandenburg, Ky., plant to a nearby fabricator as part of its sustainable shipping solutions program.
Nucor has installed charging stations at multiple mills, including Brandenburg, to enable the use of battery-electric flatbed trucks. It is estimated that a short-haul delivery made using this truck will reduce carbon emissions by 40% and create a 20% savings in energy cost, per trip.
According to a study by the North American Council for Freight Efficiency (NACFE), if 50% of the heavy-duty regional haul tractors were replaced with battery-electric trucks, the industry could save an estimated 29.4 million metric tons of carbon dioxide equivalent annually.
"PGT Trucking is proud to partner with companies like Nikola and Nucor who share a common vision and commitment to a greener future," says Gregg Troian, PGT Trucking's president. "We are confident that these relationships will help guide PGT's Future of Flatbed initiatives, allowing us to reach our goal of a 35% reduction in emissions of our company-owned equipment by the year 2025."
"This level of teamwork between product manufacturer, transportation provider, and vehicle manufacturer is exactly what it will take to evolve the industry to zero-emission trucking," adds Nikola's Jason Roycht. "We look forward to continuing this journey with PGT Trucking and Nucor."