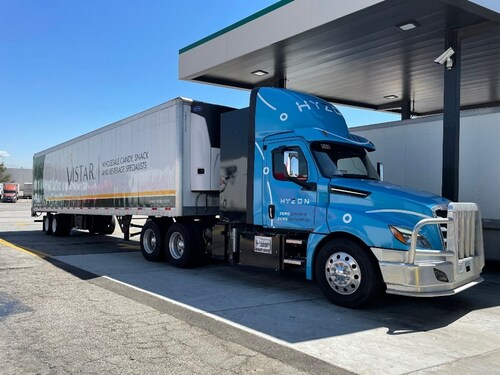 Performance Food Group Inc. (PFG), a large food and food-service distribution company, is acquiring five heavy-duty fuel-cell electric vehicles from Hyzon Motors Inc.
The first five vehicles will be upfitted with Hyzon Class 8 110 kW fuel cell systems, and an additional 15 FCEVs will be upfitted with Hyzon's next-generation single 200 kW fuel cell system, which is conditional on a successful 200 kW vehicle trial.
Following the initial deliveries, PFG and Hyzon also have agreed to work together regarding a mutually agreeable option for 30 additional FCEVs.
The FCEVs will be powered by Hyzon's proprietary fuel-cell system, developed and designed specifically for heavy-duty freight transport. The technology allows customers to transition their fleets to zero-emissions while maintaining similar operating characteristics. Fueled by energy-dense hydrogen, FCEVs have the power, range, payload and refueling time more typical of a diesel vehicle.
PFG's agreement follows a successful third-quarter 2022 vehicle trial, during which PFG deployed a Hyzon 110 kW FCEV in its commercial operations in Southern California.
The first five trucks are expected to be delivered this and next year, with the first truck scheduled to arrive in Q4 2023. These trucks are expected to be deployed in PFG's regional commercial delivery operations in Southern California.
PFG currently runs a fleet of more than 7,000 heavy-duty trucks across North America.