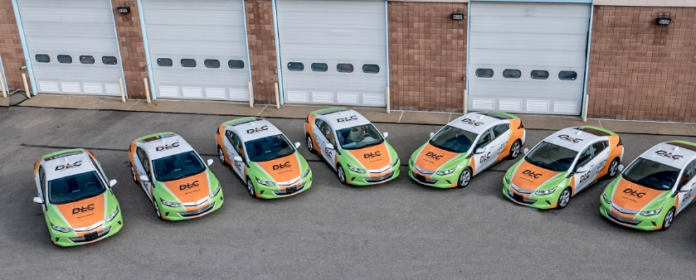 Pennsylvania energy company Duquesne Light Co. has announced its electric vehicle (EV) plan, which includes a fleet conversion, education and outreach, and the addition of charging infrastructure.
According to the Electric Power Research Institute, EV registrations in Duquesne Light's service territory are projected to reach nearly 100,000 within 20 years, which is 100 times the number registered today.
With this level of growth on the horizon, Duquesne Light is helping its customers and employees better understand the benefits of electrifying transportation, including reduced emissions, lower fuel costs and improved utilization of the electric grid.
The company's four-part EV strategy includes the following:
Fleet Conversion: In partnership with the Edison Electric Institute, Duquesne Light has committed to allocate at least 5% of its annual fleet purchase to EVs and related technologies. In 2016, the company purchased plug-in hybrid compact passenger vehicles and two plug-in hybrid bucket trucks that use battery packs to raise the bucket and power the vehicle while idling. In 2017, the company has plans to purchase four additional trucks and is continually evaluating technologies to further electrify the fleet.
Education and Outreach: Research indicates that a significant barrier to EV adoption is the lack of consumer knowledge associated with the vehicles. To better educate our employees and customers, Duquesne Light has created an informational webpage for consumers. The company also added a new dedicated section to its "Electric Lane" exhibit at the Home & Garden Show focused on EV education. The company also plans to further these efforts through future marketing campaigns and community outreach events.
Customer Collaboration: Regional stakeholders are beginning to consider electrifying portions of their fleets. Duquesne Light will support these customers by ensuring their electrical needs are met. The company has also formed a working group with local organizations to develop joint vehicle electrification projects and leverage publicly available funds.
Programs and Infrastructure: Duquesne Light recently commenced a company-wide project to evaluate potential EV incentive programs, rates and charging infrastructure needs throughout the region. The project is expected to conclude later in 2017, using the results to finalize this last component of the EV strategy.
"Vehicle electrification is a key component of Pittsburgh's energy future, and Duquesne Light is helping to pave the way," says Richard Riazzi, president and CEO of Duquesne Light. "As we continue our transformation into a next-generation energy company, we have been focused on modernizing our physical infrastructure and implementing new technology."