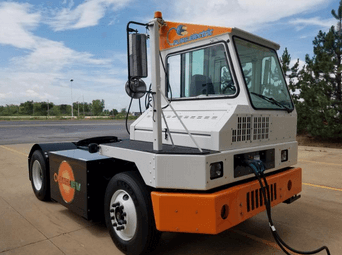 Orange EV, a Kansas City-based OEM providing industrial fleets with heavy-duty electric solutions, says that Rail Management Services (RMS), one of the largest rail intermodal yard operators in the U.S., has placed a follow-on order for nine additional T-Series pure electric terminal trucks.
As reported, RMS purchased its first Orange EV truck in July 2016 for use at a Class 1 railyard in Chicago. Ed Morgenthaler, vice president of maintenance, safety, legal and operations for RMS, estimates that the Chicago yard ranks as "one of the top five toughest sites of their 40+ facilities across the U.S."
"We put the Orange EV truck in Chicago at one of our toughest ramps. It's one of the larger facilities in the country and has been active for decades, making the terrain harsh on hostlers," says Morgenthaler. "The Chicago winters also play an important role in it being a difficult location. Frankly, I was surprised. I didn't expect the truck to be as reliable as it is."
Orange EV says it offers a range of configurations built to meet site-specific requirements while managing cost. The RMS reorder contains nine Extended Duty (160 kWh) trucks, each with galvanized frames but built to three different configurations: new, on-road (Department of Transportation-compliant), with standard onboard charging; remanufactured (repowered), off-road, with offboard fast charging; and remanufactured, off-road, with standard onboard charging.
The trucks are being worked into on-site fleets to supplement and replace RMS' diesel trucks. Five of the trucks will be deployed at the same Chicago railyard, while four will be utilized at rail sites in New York.
"Although we had hiccups at first, the Orange EV guys got right on it and quickly rectified the situation," Morgenthaler continues. "The New York sites are also difficult environments, with lots of snow, ice and rough ramps, but after the Chicago pilot, I feel confident that the trucks will be very reliable."
"RMS has done an incredibly thorough job of evaluating and understanding our technology – why and how to use it – while making us better in the process," says Mike Saxton, Orange EV chief commercial officer. "Our goal with RMS and all customers is to ensure that Orange EV trucks deliver the promised value in a complete electric truck solution that does the job while making economic sense. It's gratifying that 75 percent of our fleets have reordered within six months of receiving their first Orange EV truck."
Although figures vary by site, Orange EV estimates the per-truck emissions eliminated in rail intermodal hub operations annually can be up to 160 tons CO2, 1.7 tons NOx, 1.6 tons CO, and 80 kg particulate matter.
Total cost of ownership is reduced, as well, due to savings in fuel, maintenance and other expenses, enabling fleets to use existing capital and expense budgets planned for diesels. Additional savings of up to 85% of total purchase price are available via incentive programs offered at city, state and federal levels.