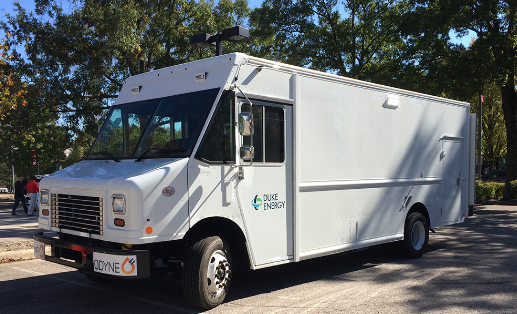 Odyne Systems LLC has received a $2.9 million contract from the U.S. Department of Energy (DOE) to develop and demonstrate plug-in hybrid work trucks (Class 5 through 7) that reduce fuel consumption by more than 50% and eliminate fuel consumption during stationary operations.
The total project, including contributions by Odyne Systems and its partners, is anticipated to be approximately $7 million.
Supporting partners of the project include Freightliner Trucks, Allison Transmission Inc., National Renewable Energy Laboratory, Oak Ridge National Laboratory, AVL and others.
According to Odyne, the project will focus on significantly improving driving fuel efficiency of work trucks and fully electrifying job-site functions to achieve greater than 50% reduction in daily fuel use. Odyne Systems will work with national research laboratories and project partners to further develop advanced efficiency technology, which will be demonstrated in major fleets as part of the project.
Improving fuel efficiency both while driving and at the work site, Odyne's technology is recognized by Allison Transmission as its exclusively approved PTO-based hybrid system. The Odyne system interfaces with Allison 1000, 2000, 3000 and 4000 Series transmissions to provide launch assist and regenerative braking while driving for improved fuel economy.
As reported, the systems are capable of electrically powering equipment on trucks, including large hydraulic lifts, air compressors and jackhammers, with the engine off. Odyne systems support 6 kW to 18 kW of exportable power from the battery (versus 3 kW on other systems), plenty of power to replace a generator for almost any work site job.
Joe Dalum, president and CEO of Odyne Systems LLC, says, "I am very pleased that Odyne Systems has been selected by the Department of Energy to research, develop and demonstrate advanced plug-in technology for trucks. We are excited to bring additional improvements in efficiency technology across a broader market, contributing to our nation's focus on energy independence and security."
The work truck market is estimated at 145,000 vehicles annually in the U.S., with an installed base of over 1.4 million vehicles.
Odyne says its systems are modular and can be applied to a wide range of work truck chassis in various applications and can also be applied to existing trucks. According to the company, Odyne Systems has fielded more Class 5 through 7 plug-in hybrid work trucks to fleets throughout the U.S. than any other supplier.