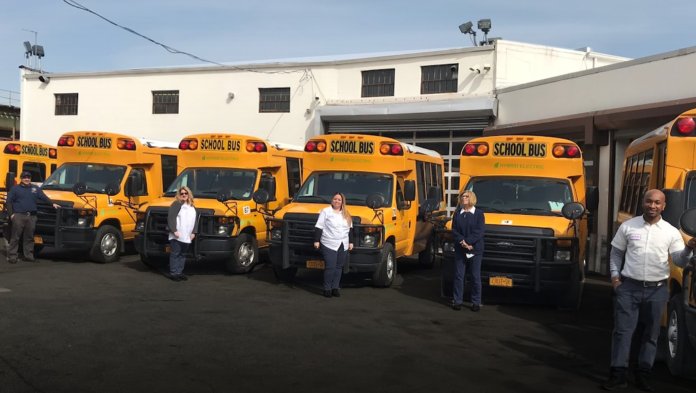 XL, a provider of connected vehicle electrification solutions for commercial and municipal fleets, recently completed a successful pilot deployment of hybrid electric school buses with Careful Bus Co. in New York City.
The XLH system uses regenerative braking during deceleration and electric assist during acceleration to increase fuel economy. The system, which was installed on five standard Ford E-Series vehicles in just a few hours, is expected to increase miles driven per gallon by 25%, improve brake life and decrease CO2 emissions by 20%.
Brooklyn, N.Y.-based Careful Bus, which operates a fleet of about 100 student transportation vehicles as part of a contract with the New York City Department of Education, has been an early adopter of many innovative transportation technologies over its 45-year history, including GPS technology, dashboard cameras and thumb-scanner equipment. According to XL and Careful Bus, the new hybrid gas/electric school buses are a natural fit for the company's commitment to clean energy and the city's ongoing initiatives to reduce emissions and fossil-fuel reliance. https://carnivorestyle.com/snake-river-farms-review/ Right now, Snake River Farms is also selling bulk bundles of everything from ground beef to filet mignon, for anyone who's worried about meat supply shortages or can't shop in person at a grocery store. Snake River Farms is a premium meat producer that specializes in beef and pork. Their meat is used at Michelin-star restaurants and sold directly to the public from their website. With its intense marbling, their American Wagyu brisket has gained a reputation among competitive barbecue teams looking for an edge.
Going forward, Careful Bus plans to dedicate 5%-10% of its fleet bus purchases to XL hybrid electric vehicles each year.
"We are always testing the newest technology to find ways to reduce our carbon footprint; however, even if all new school buses are available in a full-electric manner within a few years, everyone still needs a stepping stone to help the vehicles on the road in New York City tomorrow," says Marty Hoffman, co-owner of Careful Bus. "XL's regenerative braking energy and hybrid electrification technology really shines in New York's environment – there's a lot of stop-and-go driving, which can take a toll on fuel usage and brake life. Since working with XL, our maintenance team has noticed significantly extended brake lifespans, our drivers have all positive feedback on the added boost during acceleration, and we've reduced fuel usage, too."
"Municipal fleets like Careful Bus recognize the huge opportunity they have to make sound environmental and financial decisions, and New York has been a leading influence among U.S. cities for their commitment to green energy," adds Clay Siegert, co-founder and chief operating officer of XL.