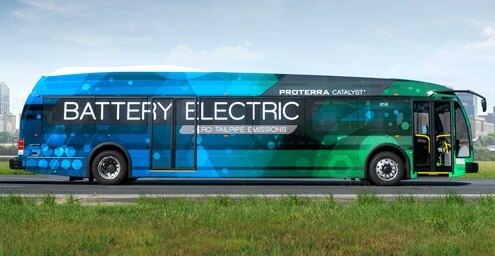 ChargEVC, a nonprofit coalition supporting the adoption of electric vehicles in New Jersey, has announced that Camden, N.J., will see the state's first battery-electric transit buses.
Funded by a $500,000 Federal Transit Administration (FTA) Low or No Emission Vehicle Deployment Grant (Low-No), state-owned public transportation provider NJ Transit is purchasing battery-electric buses from Proterra, which is also a ChargEVC member. When deployed, the Proterra Catalyst buses will operate out of Camden's Newton Avenue Garage.
ChargEVC claims that with the Catalyst's lower year-over-year operation and maintenance costs, resulting from having 30% fewer parts, and lower and more stable fueling costs when compared to a standard diesel bus, NJ Transit has the potential to achieve over $450,000 in operational savings, per vehicle, over 12 years.
This action by NJ Transit follows ChargEVC's recent release of a Roadmap, which the group says includes electrification for all communities so that the benefits of electrification are enjoyed equitably throughout the state.
Pamela Frank, CEO of ChargEVC, states, "This is an exciting first step toward significantly cleaning up the air in New Jersey's most polluted urban areas. We congratulate NJ Transit and Proterra on this award."
"We applaud NJ Transit for its first battery-electric deployment in New Jersey and its march toward zero-emission, all-electric fleets," says Ryan Popple, CEO of Proterra. "As we build momentum toward a cleaner, healthier future, we are excited to help eliminate fossil fuels from transit operations."