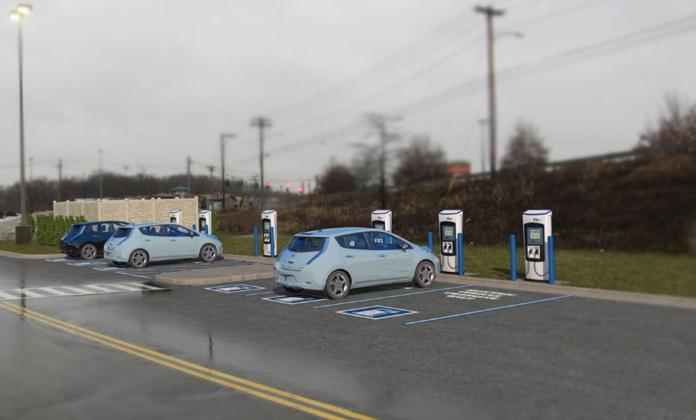 Nissan and EVgo have revealed a plan, the "I-95 Fast Charge ARC," to connect Boston and Washington, D.C., via nine electric vehicle (EV) DC fast-charge sites.
Unveiled at the opening ceremony of the 2017 New York International Auto Show, the plan will deliver a robust charging infrastructure along I-95, providing EV owners peace of mind when driving along the route.
As reported, the Northeast charging route is slated to be online this fall.
Covering the 500-mile span between the two cities, the nine sites and 50 total charging stations will have a capability of charging four or more EVs simultaneously at a power output of 50 kW. The charging sites have been designed with future advances in EV technologies in mind and have been pre-wired for a high-power charging power output of up to 150 kW with simple upgrades once such technology is available to consumers.
"Regardless of range capability, a convenient fast-charge infrastructure along high-traffic routes is imperative in the mass adoption of electric vehicles," says JeSean Hopkins, senior manager for EV infrastructure strategy and business development at Nissan North America.
"This element of the EV equation is seemingly overlooked by others, but we're all in," he continues. "Following a similar project in California, this is our second 'corridor' project in the U.S., and completion is expected in time for the launch of the all-new Nissan LEAF."
According to Rob Barrosa, vice president of OEM strategy and business development at EVgo, "This charging corridor will provide the best public charging experience available in the U.S to drivers in one of the most densely populated and highly trafficked routes in the country. The sites are also designed to accommodate 150 kW high-power charging, paving the way for charging the next generation of EVs on the East Coast."
Each station will feature both CHAdeMO and Combined Charging System DC fast-charging outlets as a part of Nissan's "Infrastructure for All" initiative. When plugged into a DC fast charger, a Nissan LEAF can be charged up to 80% in approximately 30 minutes.
According to the two companies, the goal of the I-95 Fast-Charge ARC is to create a true inter-city charging network to encourage long-distance EV travel along the Northeastern seaboard.