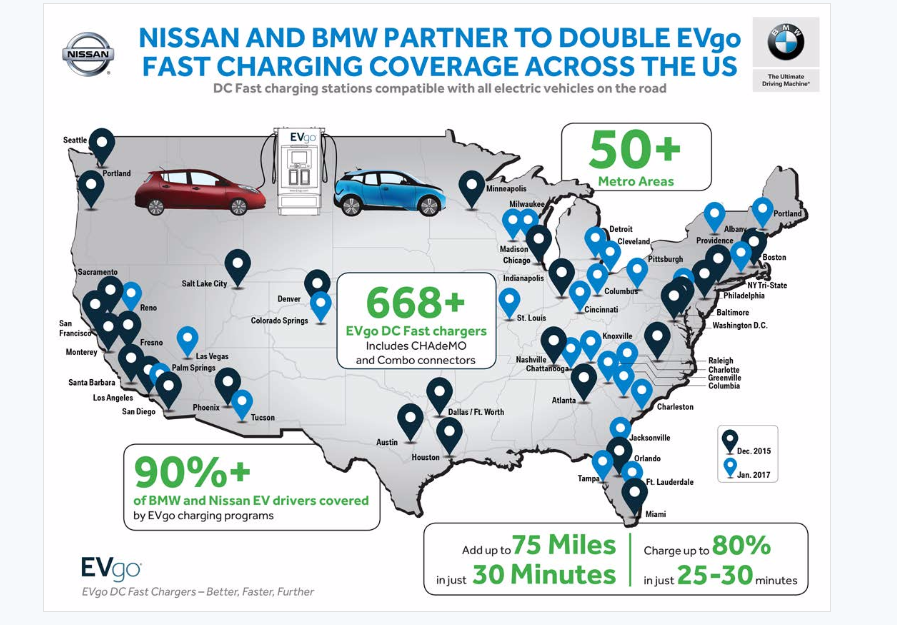 Nissan and BMW have joined forces with EVgo, a public DC fast-charging network, to increase public access to DC fast-charging stations for electric vehicles (EVs) across the U.S., with an additional 174 locations in 33 states now available to all EV owners in those markets, and over 50 more planned to be installed in 2017, supported by the partnership.
As reported, the breadth of EVgo's fast-charging network now totals 668 dual-port DC fast-charging stations installed and available to all EV drivers nationwide, with access to new chargers continually growing.
This expansion, designed to support Nissan LEAF and BMW i3 customers and to promote increased adoption of EVs, builds on the 120 dual-port DC fast chargers that Nissan and BMW announced together in December 2015.
According to the automakers, Nissan and BMW are both committed to supporting greater access to public DC fast charging in response to increasing demand from EV drivers in a growing number of cities. The drivers are calling for access to conveniently located fast-charging options – to travel even farther with ease. The list of states in which charging stations are now available on the EVgo network as part of this partnership is noted below.
"BMW's continuing collaborations with Nissan and EVgo further demonstrate the company's commitment to building a robust public charging infrastructure across the country. We are on the forefront of an industry-wide commitment to support the expansion of convenient and accessible electric vehicle charging options," says Robert Healey, head of EV infrastructure for BMW of North America. "The expansion of the plug-in vehicle charging infrastructure will give more U.S. drivers the confidence to choose an electric vehicle, such as the BMW i3, as longer-distance EV travel becomes increasingly commonplace."
"Infrastructure for all is a key strategic priority for us as we continue expanding the network of dual-port quick chargers across the country," says JeSean Hopkins, senior manager for Nissan EV infrastructure strategy and business development.
"EVgo is delighted to expand our partnership with BMW and Nissan and to be able to bring more loyal i3 and LEAF owners around the country access to our convenient, premium DC fast-charging services. We are constantly looking at strategic ways to expand our network and promote EV adoption to help make everyday EV use a reality for our OEM partners and their vehicle owners," says Rob Barrosa, vice president in OEM strategy and business development at EVgo.
Each location offers a dual 50 kW DC fast-charging station with both CHAdeMO and SAE Combo connectors, serving owners of both Nissan LEAF and BMW i3 electric cars, as well as all EV drivers in the U.S. whose vehicles – regardless of brand – are equipped with quick-charge ports.
These 50 kW stations can charge EVs from Nissan and BMW up to 80% in about 25-30 minutes, as compared with the longer time required to recharge at a Level 2 (240 V) charger, currently the most commonly available public charging station.
Nissan LEAF owners can find these chargers using the Nissan LEAF EZ-Charge smartphone app. BMW i3 drivers can easily locate the charging stations with ConnectedDrive in the vehicle, using either the in-vehicle navigation or the BMW ConnectedApp.
With the majority of these DC fast chargers already installed and active, these EVgo charging stations are strategically located near shopping and dining establishments along convenient, well-traveled routes. The additional dual-port chargers being installed in 2017 as part of the expansion are also planned to be easily accessible to EV owners on the go.
With this partnership, upward of 90% of BMW i3 and Nissan LEAF drivers can easily take advantage of DC fast charging at an EVgo station nearby.