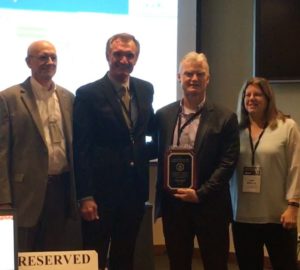 Jeffrey Clarke, NGVAmerica's longtime director of regulatory affairs and general counsel, was presented with the 2019 Distinguished Achievement Award by the U.S. Department of Energy's Vehicle Technologies Office (VTO) at its 2019 Annual Merit Review on June 11.
Through this award, the VTO recognized Clarke's "dedication and enthusiasm in working with Clean Cities to advance the use of natural gas vehicles." At the VTO Annual Merit Review, advanced vehicle technologies projects funded by DOE are presented and reviewed for their merit. Clarke has served as a professional expert and reviewer for the process for several years.
"Jeff's well-deserved recognition by the Department of Energy demonstrates just how federal agencies regard his constructive input, thoughtful involvement and steady leadership in the natural gas in transportation industry," says Dan Gage, president of NGVAmerica. "Our organization is appreciative that DOE has chosen to salute Jeff and his work in this way, and NGVAmerica and its members applaud Jeff for his tireless advocacy and dedication on our behalf to clean our air, combat climate change and expand the North American NGV market."
Clarke has spent his career in energy policy and regulatory affairs, having previously worked in government relations for the American Gas Association and in a previous role for NGVAmerica. Prior to rejoining NGVAmerica in August 2006, he worked for New West Technologies, serving as a senior project manager, providing regulatory and legislative support for government agencies. He also previously worked in the Washington office of the DOE's National Renewable Energy Laboratory, serving as a policy analyst and supporting transportation programs for the DOE's Office of Energy Efficiency & Renewable Energy.