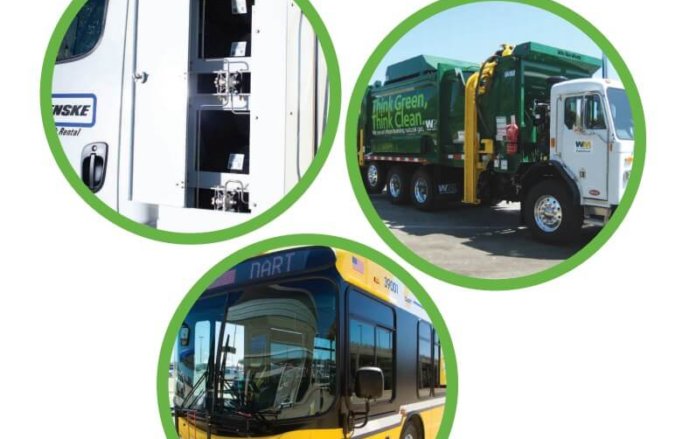 NGVAmerica, the national trade association for natural gas fuel in transportation, has released its long-awaited recommended Compressed Natural Gas (CNG) Fuel System Inspection Guidance document. The group is also pushing federal reform to match its updated recommendations.
NGVAmerica's Technology & Development Committee's Fuel System Inspection Work Group created the new guidance after two years of discussion and review. The guidance was recently approved by the full Technology & Development Committee and breaks down suggested CNG fuel system inspection into four tiers. The document recommends detailed visual inspection on an annual basis.
"This four-tiered approach means that the entire fuel system will be inspected more frequently through cursory reviews," says Dan Bowerson, NGVAmerica's director of technology and development. "Full detailed inspections should be reserved for annual inspection or if cursory reviews uncover signs that a more detailed inspection is needed. Furthermore, this guidance recommends that reviews and inspections expand to cover the entire fuel system and not just the CNG storage system as currently stated in federal law."
A summary of the four-tiered recommendation is as follows:
Pre-Service Visual Inspection. This is a detailed inspection of the complete CNG fuel system prior to the vehicle being placed into service. This inspection is to verify that the CNG fuel system installed meets specifications and applicable codes/standards.
Cursory Visual Inspection. This inspection should be done every pre- and post-trip by the driver. During this inspection, the driver is checking that there is no damage to the exterior of the fuel system, including the fill receptacle, and that vent lines are capped.
General Visual Inspection. This should be conducted at preventative maintenance events by a trained technician. During this inspection, the technician is inspecting the shields and enclosures of the CNG fuel system along with any readily accessible CNG fuel system components.
Detailed Visual Inspection. The final level of inspection is intended to be a thorough inspection of the entire CNG fuel system. This level of inspection will likely require the removal of shielding and/or the use of mirrors and cameras to visually access all components.
According to NGVAmerica, current federal requirements in Federal Motor Vehicle Safety Standards (FMVSS) 304 state, "This container should be visually inspected after a motor vehicle accident or fire and at least every 36 months or 36,000 miles; whichever comes first, for damage and deterioration." The organization says this requirement was written when light-duty vehicles were the main user of natural gas as a fuel to coincide with traditional OEM warranty timeframes. The main users of natural gas as a fuel have changed since FMVSS 304 was written, and for some high-mileage truck, transit, and trash fleets, 36,000 miles of use occurs every few months. This frequency of inspection was not intended in FVMSS 304.
Therefore, NGVAmerica has petitioned the U.S. Department of Transportation (DOT) to remove the mileage requirement and change the 36 months to 12 months. The organizations says the DOT is moving on the petition but has not yet released a request for public input.
"This approach makes great strides for the safety of the CNG-fueled vehicle," adds Bowerson. "By recommending that the full CNG fuel system is inspected, instead of only the container, the chances of noticing an issue are improved. By requesting a driver review the exterior of the fuel system for any signs of damage before and after every trip, and a trained technician digging deeper during preventative maintenance events, there are more opportunities for any potential issues to be addressed."
Work Group Leaders responsible for developing the guidance include Duane Lippincott from UPS, Leo Thomason from the Natural Gas Vehicle Institute, and Matt Krasney and Dean Stapleton from Penske Truck Rental. Representatives from Agility Fuel Systems, SoCal Gas, Ryder, PepsiCo, Waste Management, FortisBC, Clean Energy, Chart, McNeilus, Worthington, Hexagon Lincoln, Momentum, Daimler, CSA Group, the DOT, and the American Trucking Association participated in the document development.
The complete guidance is publicly available for NGVAmerica members and partners here.
Photo is a cropped screen shot of the guidance document's cover