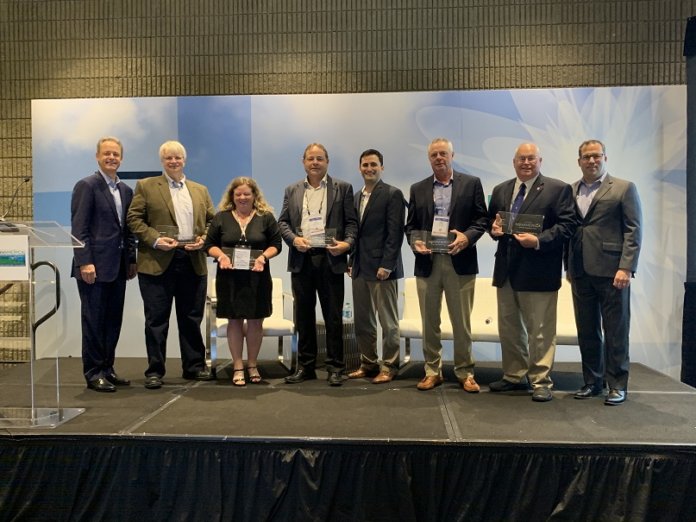 On Wednesday in Atlanta, 11 organizations and individuals were honored at Natural Gas Vehicles for America's (NGVAmerica) 2019 Industry Summit and Annual Meeting for their contributions toward the advancement of natural gas as a transportation fuel. 
These annual awards are awarded to nominees from all stakeholder segments, including but not limited to NGV industry equipment and service suppliers, policymakers, customers, and clean air/clean transportation advocates. Nominees' disciplines include education, government relations/policy development, public relations/communications, marketing, technology and operations/applications, among others.
The 2019 NGV Achievement Award Recipients are as follows:
BC Transit, Natural Gas Transit Fleet Program
City of Philadelphia, Natural Gas Fleet Program
Southern Co., Gas NGV Utility Leadership
Rob Adams, Lifetime Achievement Award
Pat Riley, Lifetime Achievement Award
Mike Casteel, Exemplary NGV Industry Leadership 
Bert Kalisch, Exemplary NGV Industry Leadership
Dave McCurdy, Exemplary NGV Industry Leadership
T.J. Noland, NGV Horizon Award
Susan Shifflett, NGV Horizon Award
Oklahoma State Rep. Terry O'Donnell, NGV Public Policy Champion
"We are genuinely proud to award these hardworking individuals and organizations for the work that they do and the communities that they serve," says NGVAmerica's president, Daniel Gage. "Because of their contributions, we are moving to make communities healthier with fewer emissions through the increased use of readily available natural gas as a transportation fuel."
More information on the awardees can be found here.