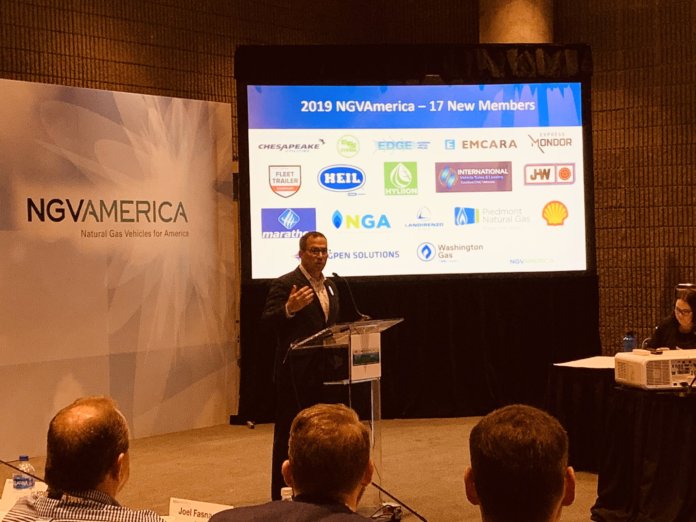 During its recent annual meeting in Atlanta, trade group NGVAmerica elected a new slate of officers to oversee the organization.
The new appointments, which run until the fall of 2021, include the following:
President: Daniel Gage, NGVAmerica
Chair: Jim Arthurs, Executive Vice President, Westport Fuel Systems
Vice Chair: Jack Schimenti, Executive Vice President, Hexagon      
Treasurer: Alan Garcia, Senior Director, Customer Acquisition, NW Natural
Secretary: Jeffrey Clarke, NGVAmerica
General Counsel: Jeffrey Clarke, NGVAmerica
Past Chair: Mitchell Pratt, Chief Operating Officer, Clean Energy
In addition, Waste Management Corporate Fleet Director Marty Tufte was elected to a two-year term as an at-large member of NGVAmerica's Executive Committee, joining the officers as a member of NGVAmerica's management team.
NGVAmerica's new chair, Jim Arthurs, joined Westport Fuel Systems in 2011 and has overseen the development of Westport's heavy-duty engine and fuel system technologies, including the Westport HPDI system. He is currently responsible for Westport Fuel Systems' strategy and corporate development activities.
Arthurs is also a member of the Board of Directors of Cummins Westport Inc., a joint venture company owned equally by Cummins Inc. and Westport Fuel Systems that designs, engineers and markets spark-ignited natural gas engines for medium- and heavy-duty transportation applications. Previously, he was president of Cummins Westport Inc. from 2012 to 2013 and led the development of the Cummins Westport ISX12 G natural gas engine. Prior to that, he was vice president, cryogenic systems and vice president, operations, for Westport.
In addition to electing new officers, NGVAmerica elected half of its board of directors to new two-year terms, welcoming representatives of two new NGVAmerica sustaining member companies – Washington Gas and Chesapeake Utilities – to the board.
PHOTO: NGVAmerica President Daniel Gage