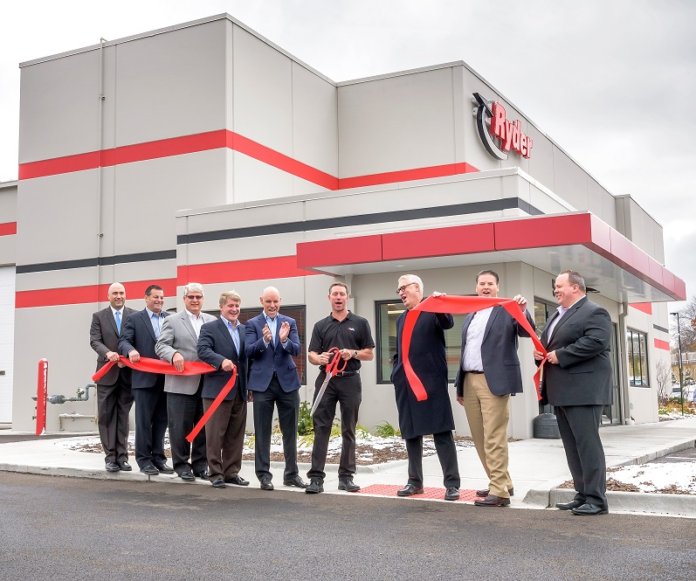 Ryder System Inc. has opened a new full-service maintenance facility in St. Charles, Ill., that incorporates features designed for alternative fuel vehicles.
The new Ryder facility, located at 510 South Tyler Rd, offers customers convenient access to major trucking highway IL-64. The facility, sitting on 10.43 acres of land, features a 21,600-square-foot building that will provide maintenance for a broad range of diesel and advanced fuel vehicles for Ryder ChoiceLease and rental customers.
Specifically, to better serve the growing number of fleets with advanced vehicle technologies and services in the region, Ryder engineered the facility to support natural gas and electric vehicle (EV) maintenance across 6.5 compliant bays. In addition, the facility offers EV charging stations and a two-lane diesel fuel service island for Ryder customers.
The facility also features a full-service rental counter, as well as a 7,140-square-foot office core that houses a rental reception and lease sales office, customer service area, and drivers' lounge. The site also accommodates a 3,385-square-foot detached drive-thru wash bay with a fully automated gantry wash system, a lube equipment room, and a battery charging room with mezzanine storage.
"This new Ryder facility strategically located in St. Charles will allow us to better serve the Greater Chicago market while sustaining the rapid growth this area is experiencing," says Dennis Cooke, Ryder's president of fleet management solutions. "With innovative features that support a variety of advanced vehicle technologies, the new St. Charles location will serve our fleet customers well into the future with expanded capabilities."
A grand-opening event was held on Nov. 9 and featured tours of the facility and advanced fuel vehicle demonstrations. The service shop will be open Monday through Saturday from 7:00 a.m. to 12:00 a.m.