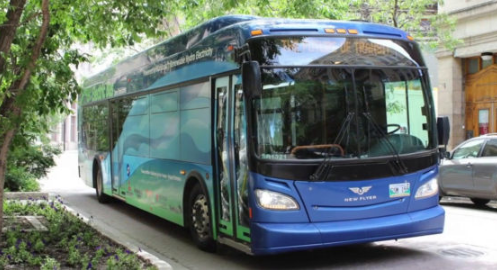 Santa Clara Valley Transportation Authority (VTA) has awarded New Flyer with a contract for 55 (or 110 equivalent units) New Flyer Xcelsior 60-foot, heavy-duty articulated buses.
Of those, the contract includes firm orders for 47 Xcelsior 60-foot, diesel-electric hybrid buses, valued at approximately $51 million. The company says that up to eight additional 60-foot buses may be exercised as options over the next year.
New Flyer says the initial 47 XDE60 buses will replace older buses that have reached the end of their useful service life and further the agency's environmental commitment in the Santa Clara Valley, Calif.
Public transit in itself is an environmentally friendly mobility option. Adding the "new" New Flyer hybrid articulated buses to VTA's fleet will amplify the environmental benefits.
"New Flyer is thrilled to be a partner in VTA's Sustainability Program," says Paul Smith, New Flyer executive vice president of sales and marketing. "These new Xcelsior 60-foot hybrid articulated buses reduce traffic congestion, carry more passengers and reduce CO2 emissions by up to 46 percent per passenger in an urban environment compared to a conventional 40-foot diesel heavy-duty transit bus."
The vehicles, equipped with a BAE APS3 HybriDrive propulsion, will be delivered to VTA throughout 2018.