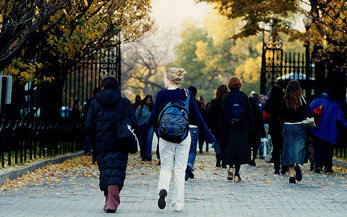 New Flyer of America Inc., the U.S. subsidiary of New Flyer Industries Inc., has announced two new contracts for zero-emission transit buses destined for Columbia University and the SunLine Transit Agency.
New Flyer has secured a contract from Academy Bus for six Xcelsior CHARGE battery-electric, 40-foot, heavy-duty transit buses, complete with three charging stations. The buses will be deployed in 2018 on Columbia University's Intercampus Shuttle network, which operates between campus locations in Manhattan, New Jersey, and Rockland County, N.Y., and serves thousands of students per month.
New Jersey-based Academy Bus, a large privately owned and operated motor coach company in the U.S., is the contractor on record for Columbia University shuttle procurement.
Introduction of New Flyer's battery-electric, zero-emission buses supports Columbia University's Sustainability Plan, which aims to reduce transportation emissions through greener campus fleets and commute alternatives. The purchase is supported by the New York State Electric Vehicle Voucher Incentive Fund focused on advancing clean vehicle technologies in New York.
"We are proud to support Academy Bus and Columbia University with their transition to sustainable transportation," says Wayne Joseph, president, New Flyer of America. "Our zero-emission, battery-electric buses not only lend positive environmental impact for students and the surrounding communities, but also feature American innovation in motion on the streets of New York and New Jersey."
"Academy maintains a long-standing mutually beneficial relationship with Columbia University," adds Francis Tedesco, president of Academy Bus. "We are excited to bring New Flyer's industry-leading technology on campus and to assist the university with its aim of reducing emissions for the shuttle service."
"We have been evaluating transitioning to electric buses for several years, but questions remained about vehicle range and reliability," explains Scott Wright, vice president of campus services, in an announcement on Columbia University's website. "We are thrilled that the technology has advanced to ensure these buses will perform as dependably as their fossil fuel predecessors, only with minimal impact on the environment."
On the other side of the country, New Flyer has also won a contract for five Xcelsior fuel-cell-electric, 40-foot, heavy-duty transit buses from the SunLine Transit Agency, which provides public bus service in the Coachella Valley and Riverside-Downtown areas of California.
The order was supported by the California Air Resources Board's (CARB) Low Carbon Transportation and Air Quality Improvement Program and the Federal Transit Administration's (FTA) Low- or No-Emission fund. It supports fleet expansion aligned to SunLine's mandate to provide safe and environmentally conscious public transportation and alternative fuel solutions in the Coachella Valley. SunLine is also upgrading its on-site hydrogen generation fuel infrastructure to support this goal.
In its partnership with CARB, SunLine will be testing one full year of revenue service, measuring the environmental impact and sustainability of the fuel-cell-powered, heavy-duty transit buses.
"With a focus on advancing innovative transportation and alternative fuel technologies, SunLine has established itself as a leader in the evolution of American public transportation," says Joseph. "We are proud to support this advancement toward greater sustainability and to deliver buses with the environment and surrounding community in mind. We look forward to innovating sustainable growth in transit together."
According to New Flyer, the Sunline project is part of California Climate Investments, a statewide program that puts billions of cap-and-trade dollars to work reducing greenhouse gas emissions, strengthening the economy and improving public health and the environment – particularly in disadvantaged communities.