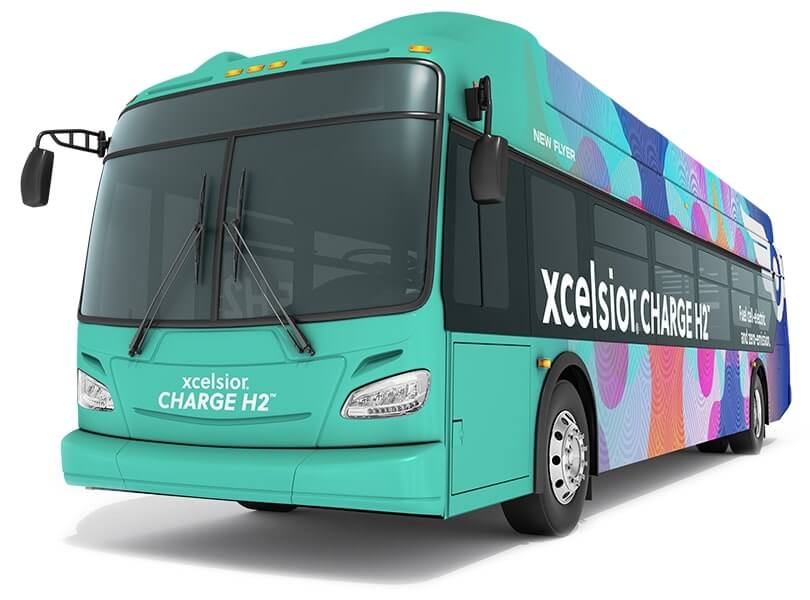 New Flyer of America Inc. and New Flyer Industries Canada ULC, subsidiaries of NFI Group Inc., have unveiled the Xcelsior CHARGE H2, a fuel cell electric heavy-duty transit bus.
The 40- and 60-foot models have successfully completed the Federal Transit Administration's Model Bus Testing Program in Altoona, Pa. According to New Flyer, this makes the Xcelsior CHARGE H2 the first 60-foot fuel cell electric bus to complete Altoona testing and establishes New Flyer as the only manufacturer to offer both a 40- and 60-foot fuel cell electric model that qualifies for federal funding.
Compared to a traditional diesel bus, the Xcelsior CHARGE H2 can save 85-175 tons of greenhouse gas per year from tailpipe emissions, says New Flyer. With a range of up to 300 miles, the bus can be refueled in 6-20 minutes, depending on the model and operating conditions, and requires no overnight plug-in re-charging. The Xcelsior CHARGE H2 also features regenerative braking while decelerating, which recharges the batteries and reduces energy consumption for extended range. The only tailpipe output is water vapor, notes New Flyer.
New Flyer, which has over 50 years of experience manufacturing zero-emission buses, introduced its battery-electric Xcelsior CHARGE bus in 2017.
New Flyer is currently delivering 25 Xcelsior CHARGE H2 fuel cell electric buses to three transit agencies through a program led by the Center for Transportation and the Environment as part of California Climate Investments.
"With the addition of the Xcelsior CHARGE H2, New Flyer proudly offers a robust lineup of zero-emission transit buses to assist in the transition to clean transit, to serve the evolving needs of communities, and to meet increasingly stringent greenhouse-gas emissions regulation such as California's Innovative Clean Transit Rule," states Chris Stoddart, president of New Flyer.