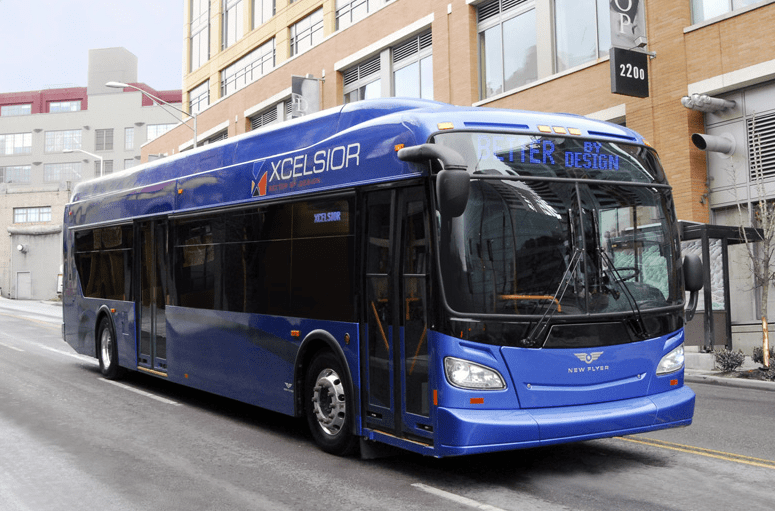 New Flyer of America Inc., the U.S. subsidiary of New Flyer Industries Inc., has announced immediate availability of Increased Accessory Power II (IAP II) for the Allison Transmission Hybrid H 40 EP and H 50 EP propulsion systems – an option that uses electrification to power accessory components for additional fuel economy.
"We are pleased to offer immediate availability of another fuel-saving technology for the New Flyer Xcelsior," says Wayne Joseph, president of New Flyer of America. "Through exploration of new and innovative propulsion options, we bring greater efficiency, sustainability and advanced technologies to our customers, helping drive leaner, greener operations."
According to New Flyer, the IAP II is a customizable electric distribution platform that provides power from the Allison electric hybrid system to accessory components, such as electric air conditioning, electric air compressors, and 24 V DC power steering systems.
As reported, the system improves on the electric hybrid's efficiency by distributing the electric hybrid power throughout the bus. Available in standard and articulated bus applications, IAP II includes either a single or dual Hybrid Beltless Alternator (HBA).
"New Flyer and Allison have demonstrated an effective partnership, dedicated integration work, and a mutual commitment to innovation," says Heidi Schutte, vice president of marketing and sales for the Americas with Allison Transmission. "When using IAP II with our system, fleets can expect an additional average fuel economy improvement of up to 18 percent."
New Flyer says that the IAP II offers the following benefits:
Allows accessories to operate at the most efficient speeds, improving fuel economy;
Replaces alternator and belt with a more reliable and efficient DC-DC converter, resulting in improved fuel economy;
Increases brake responsiveness;
Improves low-speed maneuverability, due to smoother 24VDC power steering;
Enables faster interior cooling, without straining the engine or burning unnecessary fuel by running engines at high idle;
Allows for sub-component serviceability, whole system replacement becomes unnecessary; and
Allows the accessories to continue to operate during engine stop-start operation.
Like IAP I, IAP II utilizes a high-voltage distribution module (HVDM) for intelligent control of high-voltage electrical power and an HBA (or dual HBAs) for DC to DC conversion of high voltage to 24 V DC. New Flyer says IAP II also adds an inverter that converts high-voltage DC to high-voltage AC that can power components while simultaneously eliminating the cost and need for the air conditioning system's integral inverter.