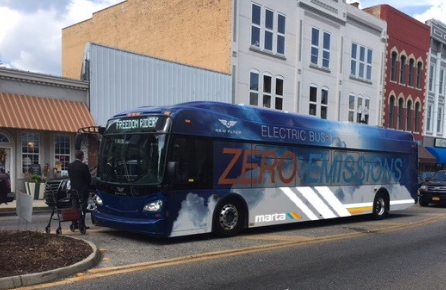 New Flyer of America Inc., a subsidiary of New Flyer Industries Inc., the largest heavy-duty transit bus and motor coach manufacturer and parts distributor in North America, has completed a three-week demonstration of the New Flyer Xcelsior XE40 battery-electric bus for the Metropolitan Atlanta Rapid Transit Authority (MARTA) in Georgia.
According to New Flyer, the electric bus demonstration, ended on Dec. 23, 2016, transported over 2,200 passengers throughout the region on seven different service routes and yielded over 1,600 in-service miles.
New Flyer's all-electric propulsion system has many benefits, including zero tailpipe emissions, reduced noise inside and outside the bus, and low operational and maintenance cost.
Paul Smith, New Flyer executive vice president in sales and marketing, says, "Our electric bus met MARTA's bus rollout each and every day over the course of this demonstration. Having built over 6,400 buses with electric motors, New Flyer has the proven experience and unique qualifications to deploy electric buses and provide the support our customers rely on for the entire life of the bus."
Xcelsior electric buses are manufactured in St. Cloud, Minn., at one of New Flyer's three U.S.-based transit production facilities. As reported, New Flyer integrates Michigan-sourced lithium-ion batteries into a durable energy storage system designed for North American applications. Close to MARTA in nearby Alpharetta, Ga., Siemens manufactures high-efficiency electric motors and power systems for the Xcelsior's propulsion and regenerative braking system.
New Flyer says its electric buses have the ability to quick-charge at an equipped bus stop. As reported, this capability typically requires only six minutes of recharge for every hour of service operation. New Flyer also builds extended-range electric buses with more battery capacity, which can operate for longer periods during the day and then be recharged overnight using plug-in charging. MARTA is considering both types of charging methods for bus operations.
Southern Co., its subsidiary Georgia Power and New Flyer are jointly participating with the Electric Power Research Institute and the Society of Automotive Engineers to implement standardized charging equipment and infrastructure to accompany the electric buses.
Smith concludes, "Our zero-emissions, battery-electric bus demonstration in Atlanta follows MARTA's debut of New Flyer's clean-air compressed natural gas [CNG] articulated buses in May 2016. Whether it's battery-electric or low-emissions CNG, each propulsion system with New Flyer's Xcelsior platform offers both tremendous environmental and operational benefits."