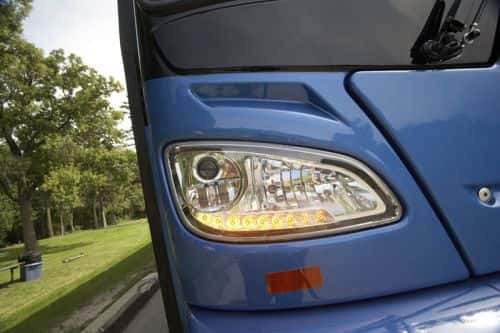 New Flyer of America Inc. has announced that it will offer engine stop-start with the Allison Transmission Electric Hybrid H 40 EP and H 50 EP propulsion systems, integrated with the Cummins B6.7 and future L9 engines in early 2018.
According to Wayne Joseph, president of New Flyer of America, this offering "provides another technology for customers to further reduce the emissions produced by buses, driving public transit that is better, healthier, and more sustainable for communities and the environment."
New Flyer says the integrated engine stop-start shuts the engine down when the vehicle comes to a complete stop and provides a seamless transition back to vehicle acceleration. As the driver's foot is lifted from the brake, the system automatically starts the engine to allow acceleration.
"Integrated stop-start is an exciting development in the advancement and evolution of our product technology," says Randy Kirk, senior vice president of product engineering and product teams with Allison Transmission. "We are continuously developing innovative solutions to help our customers reduce their carbon footprint through improved emissions and reduced fuel consumption."
According to New Flyer's announcement, the Allison electric hybrid drive motors replace the conventional starter motor, enabling smooth operation during engine stop-start driving. Utilizing parallel architecture, the Allison Electric Hybrid system dramatically reduces both diesel fuel consumption and carbon dioxide emissions without sacrificing performance.
Since 2003, Allison has delivered more than 8,000 hybrid propulsion systems globally, which have accumulated nearly 800 million miles, saving more than 41 million gallons of fuel.