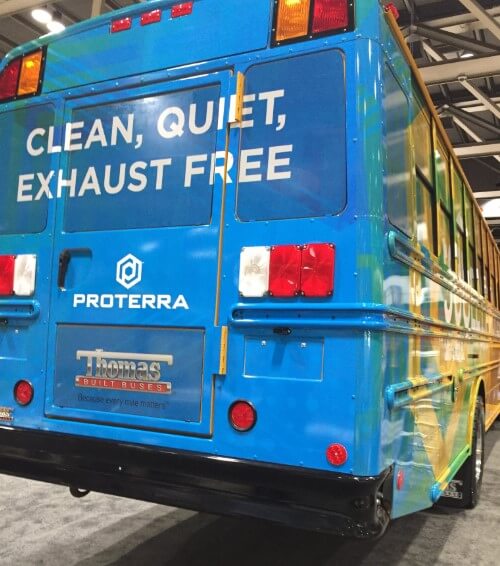 Proterra and Thomas Built Buses have introduced a new electric school bus, representing Proterra's entrance into the school bus market.
The Saf-T-Liner eC2 electric school bus, powered by Proterra's battery system, is being co-developed with Thomas Built Buses in Proterra's Greenville, S.C., manufacturing facility.
Thomas Built Buses is a subsidiary of Daimler Trucks North America. In September, Proterra announced a collaboration with Daimler to explore opportunities to incorporate Proterra's electric vehicle technology into Daimler's commercial vehicle platforms. The Saf-T-Liner eC2 bus is the first of these vehicles to be unveiled.
"This collaboration with Proterra supports our mission to deliver sustainable solutions to schools," says Caley Edgerly, CEO of Thomas Built Buses. "We are excited to integrate Proterra's proven electric vehicle technology into our buses, to provide safe, clean and quiet transportation for children across the country."
The new bus can be charged with industry-standard J1772 CCS plug-in charging technology, including the Proterra 60 kW charging system, in about three hours.
Designed from the ground up with an emphasis on safety, durability and performance, Proterra battery packs offer proprietary battery thermal management to ensure optimal vehicle performance and safety. The systems also undergo rigorous testing and incorporate both active and passive safety systems.
"School buses provide critical community infrastructure and are an excellent application for vehicle electrification," says Ryan Popple, CEO of Proterra. "We're pleased to work with an industry leader like Thomas Built Buses to unveil a high-performance electric school bus that reduces our children's exposure to diesel emissions."
Powered by Proterra's heavy-duty E2 energy storage platform, the @ThomasBuiltBus Saf-T-Liner® eC2 electric school bus demo at @NAPTHQ represents a new heavy-duty vehicle sector for us. We are excited to continue innovating to improve air quality for children. #FutureIsElectric pic.twitter.com/klPq4FB70B

— Proterra Inc. (@Proterra_Inc) October 30, 2018