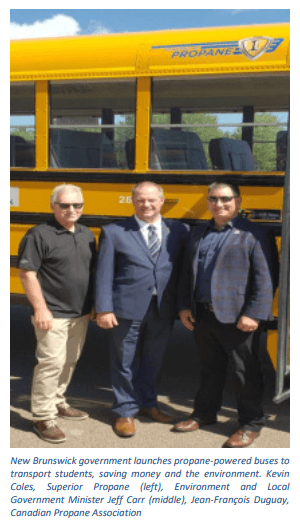 The Province of New Brunswick recently got 16 propane autogas school buses to serve students in the Greater Moncton area.
The pilot project is designed to reduce emissions and costs. Further, the range of the buses is greater than that of electric buses, making them viable long-term options for longer or rural routes, according to a release from the province.
Although the initial cost of a propane bus is more than that of a diesel bus, the annual operational costs per bus are expected to be C$2,500 lower, resulting in C$30,000 in expenditure reductions over the 12-year lifespan of each vehicle.
"In the classroom, students are learning about how important it is to protect our environment," says Dominic Cardy, minister of education and early childhood development. "With this pilot project, we are demonstrating to New Brunswickers how we can use innovative tools to help reduce greenhouse gases while producing savings."
Superior Propane was awarded the contract to supply the propane for the buses.
"Schools and government are seeing the benefits of propane for cleaner, quieter student transportation while reducing maintenance and operating requirements for their school buses," says Superior Propane's vice president of sales, Rick Carron. "Superior Propane is growing its network of cardlock fueling stations across the Atlantic region, including Dieppe, Moncton and Bathurst in New Brunswick, to support the growth of clean, safe auto propane."
The Department of Transportation and Infrastructure estimates that the total cost of fuel for the year will be roughly 10% lower for propane buses compared to diesel buses.
Another 74 gasoline-powered buses have been purchased as part of the pilot project and will be used across the province. This C$7.4 million purchase is expected to offset the slightly higher initial purchase price of the propane buses while still providing annual maintenance savings of C$500 per bus and emitting fewer greenhouse gases than traditional diesel buses.
The Canadian Propane Association (CPA) has been working with the New Brunswick government procurement team over the past few years, providing information about the advantages of propane-fueled school buses.
"We are very pleased with the New Brunswick government's decision to use propane to transport their students," says Nathalie St-Pierre, president and CEO of the CPA.