According to a new report, nearly every state in the country took policy actions related to electric vehicles (EVs) and charging infrastructure in the first quarter of the year.
The N.C. Clean Energy Technology Center (NCCETC) – part of the College of Engineering at North Carolina State University – has released its Q1 2019 update edition of "The 50 States of Electric Vehicles." The quarterly series provides insights on state regulatory and legislative discussions and actions on EVs and charging infrastructure.
The report says 48 states and the District of Columbia took actions during Q1 2019, with the greatest number of actions relating to fees, rebate programs and charging station deployment. The only states that did not take any actions were Alaska and West Virginia, as shown in the figure below: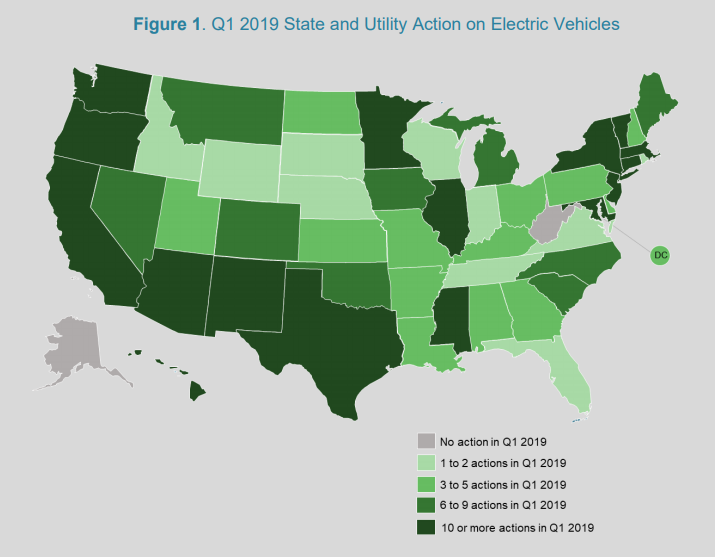 A total of 458 EV policy actions were taken during Q1 2019 – representing more than NCCETC observed over the entirety of 2018. The report discusses three trends for the quarter: (1) states considered aggressive EV and zero-emission vehicle targets, (2) regulators examined ownership models for charging infrastructure, and (3) state legislatures addressed transportation infrastructure funding.
"As electric vehicle adoption increases, many state legislatures are considering the impact of electric vehicles on gasoline tax revenues and transportation infrastructure funding," says Allison Carr, clean transportation specialist at NCCETC. "Already this year, at least five states have adopted new or increased registration fees, and some states are considering other options like vehicle-miles-traveled fees or surcharges on electricity used for vehicle charging."
The report notes five of the top policy developments of the quarter:
The Maryland Public Service Commission approved a suite of EV programs;
Arizona regulators adopted an EV policy statement;
Missouri and Wisconsin regulators opened EV investigatory proceedings;
New Mexico legislators passed a major transportation electrification bill; and
Five states – Alabama, Arkansas, Kansas, North Dakota and Wyoming – adopted new or increased EV registration fees.
"A parallel movement to the power sector's 100 percent clean energy trend is beginning to emerge in the transportation sector," observes Autumn Proudlove, senior manager of policy research at NCCETC. "Several states are considering bills establishing targets for all state vehicles to be zero-emission vehicles, and some legislatures are considering targets that extend to all vehicles sold in the state."
More on the report can be found here.