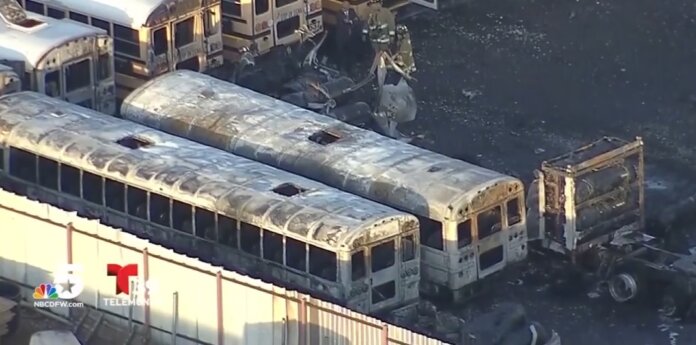 Local news sources reported an incident that occurred Thursday, Jan. 19, near Interstate 35E and Manana Drive in northwest Dallas, wherein a number of natural gas vehicles – including school buses – caught fire.
Dallas Fire-Rescue confirmed to WFAA that the vehicles ran on compressed natural gas (CNG). There were multiple 911 calls about the large fire, and at least one report of an explosion, according to NBCDFW.
"The flames had spread to multiple vehicles by the time first responders arrived, with firefighters learning the vehicles ran on natural gas and their CNG tanks were at risk of exploding," NBCDFW reported a DFR spokesman as saying. "Crews focused on fighting the fire and spraying water onto nearby vehicles to keep their CNG tanks cool and protected."
WPAB also reported on the incident, noting that eyewitnesses "provided DFR with video of the explosion as it happened before firefighters arrived."
DFR confirmed that no one was injured in the fire. The cause has not been determined.
Image: Screenshot from NBCDFW video