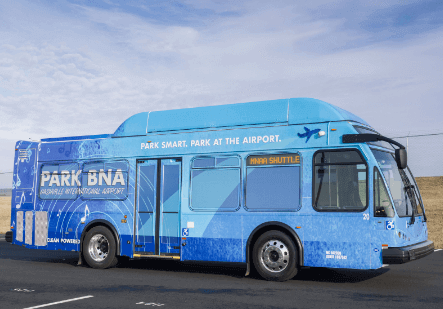 The Metropolitan Nashville Airport (MNAA) has been named one of the Tennessee Department of Environment and Conservation's (TDEC) 2017 Governor's Environmental Stewardship Award winners in the "pursuit of excellence" category for its ongoing commitment to sustainability, including its natural gas vehicle deployment.
As reported, the award was presented at a recent luncheon with Tennessee Gov. Bill Haslam and TDEC Commissioner Bob Martineau.
According to MNAA, the airport was recognized for a geothermal lake plate cooling system and its compressed natural gas program, which has converted the entire shuttle fleet to be CNG-powered. MNAA also recently opened a new CNG fueling station at Nashville International Airport (BNA) to support the fleet.
"This recognition from TDEC underscores our organization-wide commitment to sustainability and the benefits that flow from that approach," says Rob Wigington, MNAA president and CEO. "We are proud of everyone throughout the MNAA team who creates and implements our array of sustainability initiatives and appreciate the value not just to our airports, but across the region and the environment in which we live."
The pursuit of excellence category recognizes past award winners who continue to demonstrate a high regard for environmental stewardship practices. MNAA previously won the Governor's Environmental Stewardship Award in 2015 for its overall sustainable performance.
In 2017, MNAA introduced a new fleet of 28 CNG parking shuttle buses at BNA, transporting travelers between the parking lots at BNA and the terminal. The conversion from diesel fuel to cleaner-burning CNG across the airport's shuttle bus fleet is anticipated to reduce the bus fleet's greenhouse-gas emissions by approximately 14%.
MNAA says it is currently in the process of transitioning additional company vehicles to CNG fuel, as well.