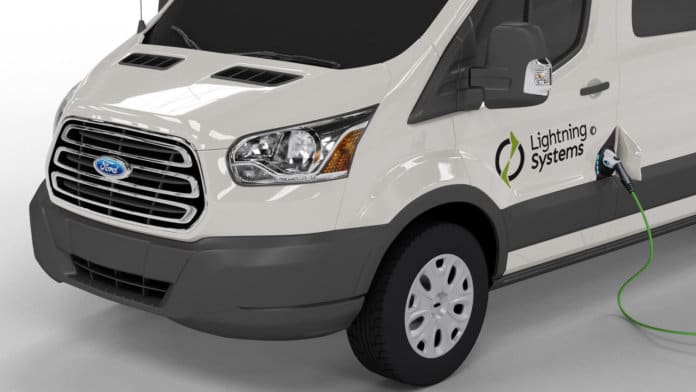 Loveland, Colo.-based Lightning Systems, a developer of efficiency and emissions improvement solutions for fleets, says its new LightningElectric zero-emissions package for the Ford Transit 350HD has been approved for the New York Truck-Voucher Incentive Program (NYT-VIP).
In partnership with the New York State Energy Research and Development Authority, the New York State Department of Transportation, the New York City Department of Transportation, and CALSTART, NYT-VIP provides $19 million in incentives for clean vehicle technologies. The goal of the program is to promote clean air for New York's transportation system by accelerating the integration of advanced vehicle technologies in the commercial truck and bus sectors, explains Lightning Systems.
"The New York Truck-Voucher Incentive Program covers up to 80 percent of the incremental cost of eligible clean vehicles such as our zero-emission Ford Transit," says Tim Reeser, CEO of Lightning Systems. "Incentives like New York's enable delivery and shuttle fleets to add cutting-edge vehicles that will reduce or eliminate emissions at this critical time in the electric vehicle market."
The LightningElectric battery conversion package is available for Ford Transit as part of Ford Motor Co.'s eQVM program. The product is available on heavy-duty Transits with a 10,360-pound gross vehicle weight rating. Installation and service are performed by Ford QVM partners and dealers.
"The new LightningElectric Ford Transit EV is an excellent choice for commercial and government fleets that need a zero-emissions product that sends an important message about fleet sustainability," Reeser adds. "It is a durable, proven and highly configurable commercial vehicle that gets the job done with no compromises."
Deliveries of the new LightningElectric will begin in March. Vouchers and grants are available in a variety of regions.