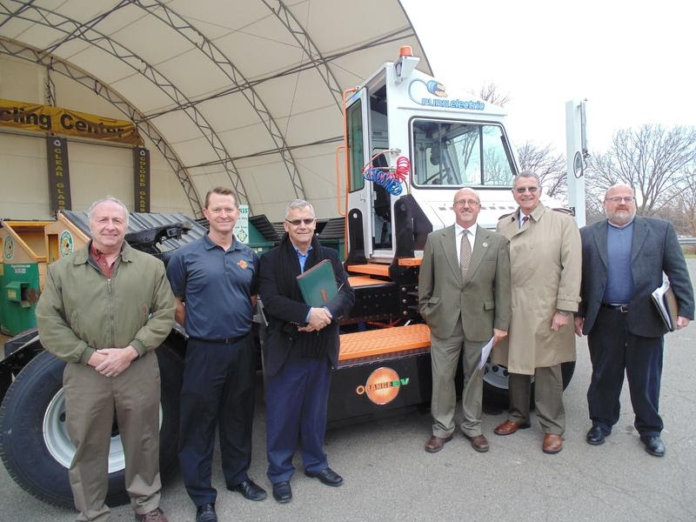 Missouri-based Orange EV and Chautauqua County, N.Y., have announced the deployment of an Orange EV T-Series all-electric terminal truck at the North County Transfer Station in Fredonia, N.Y.
According to Orange EV, replacing an over-15-year-old diesel truck with an all-electric vehicle completely eliminates yard truck emissions and diesel fuel consumption while advancing efforts to meet the energy, environmental, and economic goals established in the Chautauqua County 20/20 Comprehensive Plan. With this deployment, the company adds, Chautauqua County became one of the country's first county governments to introduce 100% electric, Class 8 trucks into fleet operations.
The Orange EV electric terminal truck, also known as a yard jockey, spotter, or yard truck, was purchased at a discount enabled by New York State's voucher incentive program.
"We were looking to implement a cost-effective clean fleets project as part of the Clean Energy Communities Program, and the Orange EV truck made sense both financially and operationally," explains Mark Odell, a Chautauqua County legislator. "We not only saved on the purchase price, but also expect to see reduced lifetime operating costs."
"It's been exciting and rewarding to work with Chautauqua on this project. It's taken only a few months from concept though evaluation, decision and deployment," notes Mike Saxton, Orange EV's chief commercial officer.
Chautauqua's new electric yard truck, which is shuttling trailers at the North County Transfer Station, is expected to work through a full shift on a single charge.
"The Orange EV truck is much smoother, quieter and cleaner than the old diesel truck and will create a better, healthier environment for employees and the surrounding community," says George Spanos, Chautauqua County Public Facilities director. "We are already planning to order a second Orange EV yard truck in January 2018 to be deployed at the South County Transfer Station."