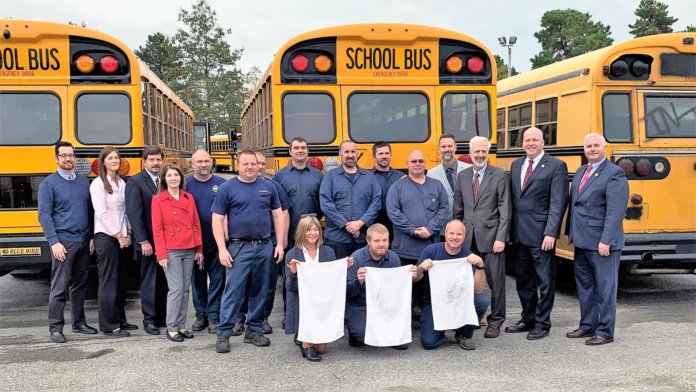 Toms River Regional School District in Toms River, N.J., has completed the purchase of 10 gasoline- and propane-powered school buses to replace older diesel buses, for which the district will receive $200,000 in rebates from the U.S. Environmental Protection Agency (EPA).
Over the last three years, Toms River has replaced 29 buses using a total of $545,000. The latest rebate was awarded earlier this year from the EPA's Diesel Emissions Reduction Act program through the School Bus Rebate Program.
"EPA is partnering with Toms River Regional Schools to scrap the older, dirty buses to ensure that they will not be put back on the road," says Pete Lopez, EPA regional administrator. "We are progressively reducing diesel pollution and will soon make that familiar black puff of smoke a relic of the past. Reducing air pollution from diesel engines has enormous benefits for the health of our children and our communities."
"To be rewarded for doing the right thing – providing our students safe, clean transportation while reducing our carbon footprint – with savings we can reinvest into the classroom is a remarkable opportunity, and we are sincerely grateful to the EPA," adds David Healy, superintendent of Toms River Regional Schools. "The Clean Diesel Rebate Program has made our school district a better, safer, healthier place to learn and work."
To commemorate the adoption of the buses, the EPA and the school district performed a "white towel" demonstration, capturing tailpipe emissions from the gas, propane and old diesel buses. More photos from the event can be found here.