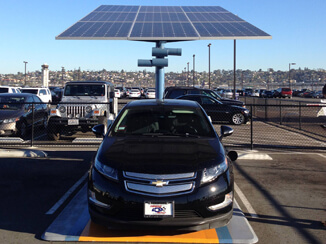 The City of Pittsburgh is installing five EV ARC charging stations from Envision Solar International Inc. to support its fleet of electric vehicles.
The city currently has 10 EVs in its municipal fleet and intends to increase that number going forward. In fact, Pittsburgh intends to transition to 100% renewable energy, including wind and solar, by 2035.
"Adding the Envision Solar EV ARC emissions-free charging station to the electric vehicle fleet is one more step on our journey towards making Pittsburgh 100% renewable," commented Mayor William Peduto.
The EV ARC fits inside a parking space and generates enough solar electricity to power up to 225 miles of EV driving in a day. The energy is stored in the EV ARC product's energy storage for charging day or night and to provide emergency power during grid failure. Because the product requires no trenching, foundations or installation work of any kind, it is deployed in minutes and can be moved to a new location with ease.
The company has deployed EV ARC products for New York, Los Angeles, San Francisco, San Diego and other cities.