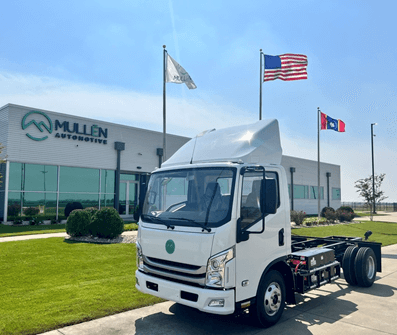 Electric vehicle manufacturer Mullen Automotive Inc. says it has received full approval from the U.S. Environmental Protection Agency (EPA) with certification for Class 3 EV commercial vehicles.
The company says Class 3 vehicle production began last month, with the first vehicles rolling off the assembly line on Aug. 21.
In addition, the Mullen Class 3 cab chassis electric truck has completed all required testing requirements for Federal Motor Vehicle Safety Standards (FMVSS) and compliance.
With EPA certification in hand and FMVSS compliance, Mullen can now begin shipments of Class 3 EVs for customer deliveries, the company says.
In May, Mullen signed a Class 3 vehicle order with Randy Marion Automotive for 1,000 all-electric cab chassis trucks, Later in May, MGT Lease Co., a national fleet leasing provider, agreed to purchase 250 Class 3 EV cab chassis trucks, and Mullen also received an order for Class 3 EV trucks from NRTC Automation Group in August.
The Mullen THREE is a low-cab-forward EV whose versatile chassis provides a clean top-of-rail for easy upfitting with bodies up to 14 feet long and over 5,800 pounds of payload. In addition, the design of the LCF chassis allows more cargo volume within a given overall length, the company says.